ELLE : International Launches

Category
Archives Lagardère Active
Paris, March 8, 2001
Hachette Filipacchi Médias is about to launch three new editions of Elle magazine abroad: Elle Canada and Elle Ukraine this month, and Elle Hungary in September 2001. This will bring the number of Elle magazines, the world's best-selling women's magazine, to thirty five (more than 60 million copies sold in 2000). In addition, the 19th Elle Décoration will be put into circulation in Russia next April.
Elle Canada, to be published in English


On 14 March
, Elle Canada, a magazine in English, will be launched as part of a joint venture between HFM and the Canadian publisher Transcantinal Publication Inc., which already successfully publishes Elle Québec in French (circulation of 76,000). Awaited impatiently by advertisers, the first issue of Elle Canada contains 140 pages of advertising out of a total of 276 pages. The new monthly magazine expects a minimum circulation of 100,000 copies.
Lisa Ravary, Editor-in-Chief of Elle Québec, will head the team of 10 journalists in charge of this new magazine.
Elle Ukraine, starting on March 21
The first issue of Elle Ukraine, to be published on March 21, will feature Diana Kovaltchouk, a Ukranian model, Max Kourochkin, a screenwriter, and Igor Sénine, an exceptional shoe designer, among others.
Hachette Filipacchi Médias is launching Elle in this country with a population of 49 million in association with its Russian partner, the Victor Skoulev press group. HFM and Skoulev already publish Elle and other magazines in Russia.
Ten journalists, under Paola Messana, Managing Editor, and Nana Morozova, Editor-in-Chief, will produce the magazine from the Ukranian capital, Kiev.
The first issue will have 180 pages, including 35 pages of advertising, and a circulation target of around 50,000 copies. This new up-market women's magazine targets young, well-off and well-educated women in Ukraine's six largest towns (Kiev, Dniepropetrovsk, Kharkov, Donetsk, Odessa, and Lvov).
Hungary, a new market for HFM and ELLE
Hachette Filpacchi Média has reached an agreement with the Hungarian magazine and newspaper publishing company, Adoc Semic Publishing, to publish Elle in Hungary.
The first issue will be launched in September with a planned circulation of 60,000 copies.
Elle Décoration in Russia, to be published six times a year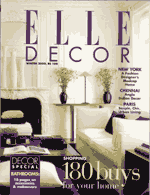 Elle Decor Russia will come out on March 29, the 19th Elle Décoration magazine to be launched worldwide. It will be published by HFM in association with the Skoulev group. The first issue of the bimonthly will have a print run of 70,000 copies and will have 180 pages, including 80 pages of advertising (Ligne Roset, Villeroy & Bloch, Daum, Lalique, Yves Delorme, etc.).
Natalia Pochechoueva, in charge of the interior decoration section of Elle Russia since 1996, has been appointed Editor-in-Chief.
The first issue will feature Russian, French, Italian and American apartments. It will provide more than 200 shopping tips and a special feature dedicated to "decorating your bedroom", which will give the new magazine a practical note.
Press Contacts :
Marie Muzard - Aurélie Olivier
Tél : 33 1 41 05 09 60 - Fax : 33 1 41 05 09 67
Email alert
To receive institutional press releases from the Lagardère group, please complete the following fields:
Register