Editions JC Lattès to release Dan Brown's new novel, Inferno, on 23 May

Category
Lagardère Publishing
Paris, May 13, 2013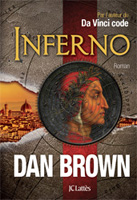 Inferno, a new adventure featuring hero Robert Langdon, is a fast-paced investigation with numerous twists that is freely inspired by Dante's Inferno.
It was translated from the English by Dominique Defert.
A graduate of Amherst College and the Phillips Exeter Academy, Dan Brown taught there for many years before devoting himself to writing. He has authored many bestsellers, including The Da Vinci Code, which is among the books with the most copies sold worldwide and has triggered fierce debates among readers and specialists. Dan Brown's novels are published in 52 languages and have sold 200 million copies around the world. Columbia Pictures will soon be producing a film adaptation of his previous novel, The Lost Symbol.
The Da Vinci Code turns 10
In honour of The Da Vinci Code's 10th anniversary, publisher J.C. Lattès is releasing an anniversary edition of Dan Brown's novel, which has sold 82 million copies around the world, including 2.5 million copies of the large-format French edition published by Lattès. The special edition also contains the prologue and first chapter from Inferno.
The book
While in Paris to give a lecture, Harvard professor of symbology Robert Langdon is urgently summoned to the Louvre late one night. Chief curator Jacques Saunière has been found murdered in the middle of the Grand Gallery. Next to the body, the police have found a coded message. Langdon joins forces with Sophie Neveu, a brilliant police cryptographer, to solve the puzzle, and they are dumbfounded when the first clues lead them to Leonardo da Vinci's work. They also learn that Saunière belonged to the Priory of Sion, a clandestine society protecting a thousand-year-old secret, with former members including Newton, Botticelli, Leonardo da Vinci and Victor Hugo. Our protagonists' investigation leads them across France and the United Kingdom, not just to uncover a long-hidden truth about Christianity, but also to flee those who want to possess the secret themselves. To succeed, they must solve a series of riddles – and quickly, or the secret may be lost forever.
"The Da Vinci Code is a spellbinding book that will captivate history buffs, mystery fans, conspiracy theorists and anyone who loves a good book they just can't put down. I loved this novel." Harlan Coben
Price: €12.50
570 pages
Email alert
To receive institutional press releases from the Lagardère group, please complete the following fields:
Register