Cyber Group Studios and Timoon Animation have signed a coproduction and partnership agreement


Category
Archives Lagardère Active
Annecy, June 10, 2009
At MIFA, Cyber Group Studios and Timoon Animation, subsidiary of Lagardère Entertainment, have inked two agreements: one relates to the coproduction of two TV animated series targeted to children aged 6 to 10, the second one refers to the international distribution and licensing of these series.
Timoon Animation and Cyber Group Studios will coproduce FISH' N CHIPS, an action / comedy series telling the adventures of Coney Island aquarium's residents and BAMBALAYE !, a wild musical / comedy series in Africa.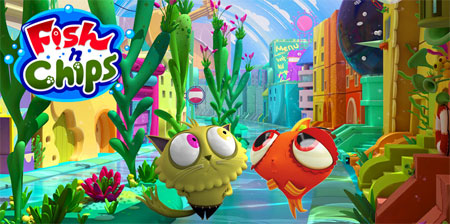 FISH' N CHIPS is an original battle between a cat who is a champion deep-sea diver and a fish that is convinced he is evolving into… a mammal! Racing and chasing each other through the mythical setting of New York City, a unique, unorthodox combat right under the noses of the millions of inhabitants and tourists who visit the New York aquarium and Coney Island boardwalk every day…
BAMBALAYE ! takes place in Africa and features a group of wacky and out-of-control musician animals. Throughout fast-pace and funny adventures, they will sing the all-time standards of black music. Access to these worldwide blockbuster songs has been made possible thanks to an agreement with EMI Publishing Worldwide.
BAMBALAYE! story and characters have been created with the intention to be adapted to the four screens (TV, PC/Internet, mobile phones and movie theater).
Cyber Group Studios and Timoon Animation will handle together the art and editorial direction as well as the coordination with broadcasters.
Cyber Group Studios will manage the series' international distribution and licensing, whose strategy will be defined together with Timoon Animation.
Arnaud Molinié, CEO of Lagardère Entertainment said: « Animation is one of Lagardère Entertainment's key areas of development. Beyond our new ambitions for Timoon, I am convinced that this partnership makes a lot of sense, both from an artistic and a business standpoint. Furthermore, I am very pleased to have the opportunity to join forces with Pierre Sissmann who is one of the animation industry key players in France and internationally ».
« I am delighted to partner with Timoon Animation. This agreement will allow us to gather our respective strengths to create two 3D series with strong international potential and broad audience. I believe that their fast-pace action, humor and great soundtrack will please both kids and parents. Moreover, these series fit perfectly our company's strategy to produce top quality, innovative, international and multimedia content » commented Pierre Sissmann, President of Cyber Group Studios.
Boris Hertzog and Sandrine Nguyen, Managing Directors of Timoon Animation, added « these ambitious series are a unique opportunity to fuel our development and leverage our deep 3D animation expertise into new artistic and storytelling concepts tailor-made for international markets for a larger audience. We are convinced that the strong complementarity of our teams will foster creativity in a powerful way ».
Billy, Producer at Cyber Group Studios commented: « Cyber Group Studios' team demonstrated its capability in creating international intellectual properties for preschool kids, for example with OzieBoo! TV series. This partnership with Timoon Animation will give us the opportunity to apply our creative and technology expertise to an older age group ».
Broadcasting agreement with industry key players are being finalized and should be announced soon.
About Cyber Group Studios
Cyber Group Studios produce and distribute top quality content for France and international markets: animated TV series, feature animation movies, live-action series for TV, web and mobile phones, news and documentaries. The company also develop licensing business opportunities (toys and games, plush, CDs, DVDs, books, apparel,…) both for its own and for third-party intellectual properties. Cyber Group Studios have been created by former executives from The Walt Disney Company, bringing more than 30 years of experience in the entertainment and media industry, – Pierre Sissmann, Dominique Bourse, Cecilia Dubois-Bossel, the producer and host Billy and Olivier Lelardoux. The company's objective is to create innovative international productions. Its flagship product, so far is Ozie Boo!,(78x7') preschool 3D animation TV series, sold to 150 countries and rewarded by TV France International as the most exported French animated TV series in 2008. Cyber Group Studios' catalog is quickly growing with series such as Manon (52x7'), released in December 2008 and already sold to 54 countries, Tatonka (40x11'), planned release in 2011 and already presold to 26 countries and other in development stage such as Zou (78x7'), adaptation as a TV series of Michel Gay's international book publishing success.
In parallel to its strong development, the company recently initiated an external growth strategy and is now looking for acquisitions. www.cybergroupstudios.com
About Timoon Animation
Set up in 2003, Timoon Animation, Lagardère Entertainment's animated series production company, aims to develop kid brands. In the last 5 years, Timoon Animation has produced several successful series like "Odd Family" (26x26'), "Les copains de la Forêt" (52x13') and also "Linus & Boom" (52x13'), aired on France 3 since April 2009 and also on Canal J in September 2009. On the arrival of a new management team with Christophe Thoral, Boris Hertzog and Sandrine Nguyen, a new set of ambitions for development was introduced: producing two new family entertainment series: "Bugged" (52x7') a totally 'Cartoon'-type parody, with explosive action and witty humour, and "Monk- Little Dog" (52x3'), which follows the mischief and adventures of a little dog who is completely crazy!
Simultaneously Timoon Animation has launched a new concept, Scary Larry, and is also working on a dozen other projects.
About Lagardère Entertainment
Created in 2008 and headed by Arnaud Molinié, Lagardère Entertainment is Lagardère Active's subsidiary in charge of audiovisual production, live performance and artistic rights management for Lagardère Group. Second leading French audiovisual production group (live action series, TV shows, drama, animation) with Angel, Atlantique, Aubes-Telmondis, DEMD, Electron Libre, GMT, Image & Compagnie, Léo Vision, Maximal, Merlin, and Timoon Animation for production; M5/Europe Images for distribution and Editions Musicales François 1er for music publishing, Lagardère Entertainment has become a key player, both in production and artistic content management.
Email alert
To receive institutional press releases from the Lagardère group, please complete the following fields:
Register