CHOC concept exported to US

Category
Archives Lagardère Active
Paris, May 29, 2006
Hachette Filipacchi Médias has decided to develop the brand outside France, starting with the United States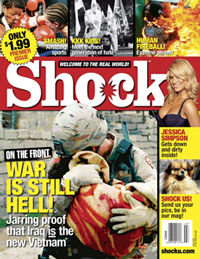 Following the success of the bimonthly magazine CHOC – launched in June 2004, now with 4.8 million readers (AEPM 2005) and a print run of 338,000 copies (OJD-DFP 2005) – Hachette Filipacchi Médias has decided to develop the brand outside France, starting with the United States.
HFM US launched the http://www.shockU.com website at the end of March, and the newsstand magazine and digital edition (subscription required) will be available on 30 May. SHOCK is a first-of-its-kind multi-platform media property, creating a new magazine category. Like its French counterpart, SHOCK offers a realistic, raw look at the world we live in and promotes reader interaction through a variety of digital media. Almost 10% of SHOCK's content will be sourced from readers, using images captured via their cell phones and digital cameras.
For Jack Kliger, President and CEO of HFM US, "SHOCK is the next generation of photojournalism, where the images shape the stories."
We now live in an image-based environment wherein consumers have developed a strong appetite for visual content. SHOCK is determined to rise to the challenge by publishing "Startling, Humorous, Outrageous, Controversial and Kommanding" photos.
SHOCK is organized into five sections:
Breaking Views offers readers a snapshot of eye-popping news stories.
Recon will feature a visual lowdown on "everything that matters this month".
Hard News promises spectacular photojournalism.
Pop Vulture offers uncensored, fun images of celebrities.
Wow! showcases amazing photos from around the world.
Mike Hammer, former editor of Stuff (Dennis) has been appointed editorial director of the new monthly image magazine, which is aimed at a target audience of young men and women.
About HFM US: a New-York-based subsidiary of Hachette Filipacchi Médias, HFM US reaches 50 million readers in the U.S.and publishes 20 magazines, including American Photo, Boating, Car & Driver, ELLE, ELLE Decor, Home, Metropolitan Home, Premiere, Road & Track, Sound & Vision and Woman's Day. In addition to the magazines, HFM US has 17 websites, four mobile services, 13 digital editions, book and custom publishing houses, integrated marketing, database and market research services, and licensing businesses. A number of HFM US brands currently have extensions in television and radio.
Find out more by visiting http://www..hfmus.com
Press contact:
Valérie BLONDEAU - Komunik'Actions- Relations Presse - 33 (0)1 49 68 59 76 - fax: 33 (0)1 49 68 12 13 - vb@komunik-actions.com
Email alert
To receive institutional press releases from the Lagardère group, please complete the following fields:
Register