CHINEPLUS turns over a new leaf

Category
Archives Lagardère Active
Paris, October 23, 2008
CHINEPLUS, the quarterly magazine launched in 2006 by Lagardère Active, is pursuing its development with the introduction of a new format this week. With denser content, as well as a more concrete and practical approach, the magazine is consolidating its mission of deciphering Chinese society with the help of a potent strike force comprised of a mixed French and Chinese editorial staff.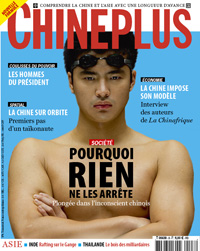 Discovering Chinese society from the inside
The new format, which continues to reflect the magazine's economic and societal positioning, has enhanced its content with practical advice, theme-based special reports and returns on experience as seen and analyzed from China. This reading experience – unique in its market – offers a highly original form of immersion into the very heart of Chinese society.
"In these times of accelerating developments and spectacular advances for China at all levels, we felt it was essential to broaden our readers' horizons by offering them a wider range of viewpoints in order to give them a better understanding of what is motivating the Chinese at all levels of society," said Madeleine Barbier, Managing Editor of CHINEPLUS.
Providing access to the essentials
The magazine's presentation has been completely reworked with a more dynamic editing style designed to make the most essential news more accessible.
Quarterly analytical reports drafted by specialists and experts on China will be a key feature of this new approach. This exclusive content will offer a new and complementary perspective on the motives underlying China's growth momentum.
"With input from the editorial staffs of the group's magazines in China, the new format gives us the opportunity to refine our editorial approach while emphasizing our speciality, which is giving our readers a true "insider's view". In addition to consolidating our leadership position in the segment of periodicals devoted to China, we intend to become the undisputed expert on the country!" adds Jean de Boisdeffre, Managing Director of Lagardère Active's International Magazine Publishing branch.
This magazine covers current economic affairs centred on the Asia-Pacific region, currently a hotbed of economic activity, and proves Lagardère Active's interest for emerging countries and for China in particular. The group's goal is to share that interest with French decision-makers.
About Lagardère Active
Lagardère Active (specializing in periodicals and audiovisual) is one of the four major corporate brands of Lagardère SCA, together with Lagardère Publishing (books), Lagardère Services (distribution and services) and Lagardère Sports (sports rights distribution and management). Lagardère Active, which operates in 43 countries throughout the world, holds a leadership position at international level, with nearly 220 magazine titles with annual sales of 900 million copies, 27 radio stations and 9 television channels. In 2007, Lagardère Active generated consolidated sales of €2.29 billion (of which 49% outside France).
Email alert
To receive institutional press releases from the Lagardère group, please complete the following fields:
Register