Borgia wins the Special Jury Prize at the Audiovisual Club's 2011 Lauriers awards ceremony


Category
Archives Lagardère Active
Paris, February 21, 2012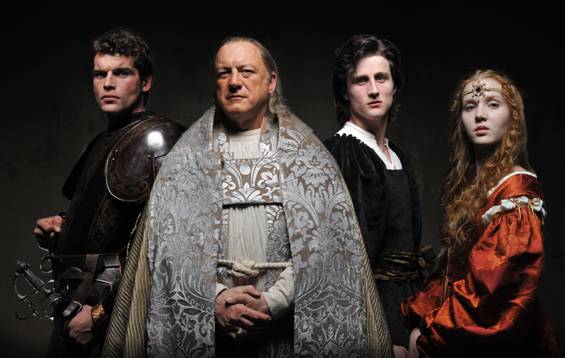 On Monday 20 February 2012, the internationally distributed television series Borgia won the Special Jury Prize at the 2011 Lauriers Radio and Television awards ceremony.
After drawing record audiences throughout Europe (including Italy, Germany, Spain and France) at the start of the 2011-12 viewing season, the series was successfully exported to over 40 countries, including the United States (via Netflix), Israel, Latin America, Japan, South Korea and Russia.
Atlantique Productions, the Lagardère Entertainment company that produced the series (which was first aired on Canal+), would like to thank the series' creator Tom Fontana for his talent, his generosity and his goal of raising the series' narrative to the highest level, as well as for his extraordinary control over the creative and production chain and for all the positive energy he instilled in everyone who collaborated on the project over a two-year period.
Borgia
A series of 12 52-minute episodes, created by Tom Fontana.
Direction: Oliver Hirschbiegel, Metin Hüseyin, Dearbhla Walsh and Christoph Schrewe.
Produced by Klaus Zimmermann.
Production: Atlantique Productions/Lagardère Entertainment (Takis Candilis).
Co-produced by EOS Entertainment.
With the participation of Canal+.
Music: Cyril Morin, Editions Musicales François 1er.
Starring: John Doman (Rodrigo Borgia/Alexander VI), Mark Ryder (Cesare Borgia), Stanley Weber (Juan Borgia), Isolda Dychauk (Lucrezia Borgia), Assumpta Serna (Vannozza Cattanei), Diarmuid Noyes (Alessandro Farnese), Marta Gastini (Giulia Farnese) and Andrea Sawatzki (Adriana de Mila).
Synopsis: Borgia is a dramatic series that recounts the rise to power of the Catalan cardinal Rodrigo Borgia and his clan, and their drive to establish a dynasty that would dominate the world. Although he was a man of faith, Rodrigo was also a slave to carnal pleasures. He not only had to foil the plots and conspiracies of his fellow cardinals and representatives of the great powers, but also had to wage a struggle to contain the rivalries that threatened to tear his family apart. Borgia is an explosive mixture of intrigue, murder, lust, politics, religion, incest, betrayal and redemption – a story as captivating and edifying as the age depicted in the series.
About Atlantique Productions
Atlantique Productions is the Lagardère Entertainment subsidiary devoted to the development and production of ambitious projects for international television distribution. It has substantial experience in international productions, acquired, in particular, through such major series as Borgia (Canal+), Transporter (M6, RTL, HBO/Cinemax, Movie Central and The Movie Network) and Death in Paradise (France Televisions and BBC One). It also boasts a pool of proven European and North American talent. Atlantique aims to provide content of high artistic value as well as consistent, well conceived productions that, like those from America, will interest today's rapidly changing global marketplace. All of its productions have budgets comparable to major American television projects, and are supported by European and international financing. They employ the most talented European writers, directors and actors, plus their counterparts from the other side of the Atlantic as needed. Atlantique Productions is a European company whose reach is global, as are its projects.
About Lagardère Entertainment
Founded in 2008, Lagardère Entertainment is the Lagardère Active entity that handles all of the Lagardère group's television production activities. Today, Lagardère Entertainment is a major player in the production and management of artistic content for television and France's largest producer of TV drama and comedy, unscripted programming and animated shows. Its production units include GMT, DEMD, Image & Compagnie, Merlin, Aubes and Ango for French drama and comedy; Atlantique and Timoon Animation for international productions; Maximal, Carson, Angel, 909 Productions, Electron Libre, Telmondis Productions, Léo Vision and Add-On Factory for unscripted programmes; and Europe Images International, Telmondis Distribution and Editions Musicales François 1er for distribution and rights. Its flagship programmes include Julie Lescaut, Joséphine Ange Gardien, C dans l'air, Mafiosa, Borgia, Clem, Stars du Rire, the Monte Carlo International Circus Festival, the Concert for Tolerance, C politique, Flics, Famille d'accueil, Fish'n Chips and Transporter: The Series.
Email alert
To receive institutional press releases from the Lagardère group, please complete the following fields:
Register