Bibliothèque Rose celebrates its 150th anniversary!
Category
Lagardère Publishing
Paris, February 3, 2006
150 years of success for the oldest, best known and – most important – best loved of all French literary collections
Who am I ?

I weigh as much as seven Eiffel Towers.
I can reach around the world one-and-a-half times.
I am as tall as all the primary school pupils in France standing on one another's shoulders
Answer:
The Bibliothèque Rose !
The oldest, longest running collection in the history of French publishing.
Good little girls,
The Famous Five,
Oui-Oui,
Alice,
Michel,
Langelot,
Fantômette
…
These are a few of the childhood heroes that sparked the imagination for seven generations of readers. It would be hard to find a single French family that does not have one of these beloved works in their attic or tucked away in their bookshelves. These small, easily recognizable books, sporting baby-pink spines and dapper covers, evoke childhood memories for each and every one of us today, very much in the manner of Proust's famous madeleines. These unforgettable volumes offered millions of French children their first adventures in reading and countless magical moments full of wonder as they accompanied children on their first imaginary voyages, filled their leisure moments with a wealth of inspiration and nourished them with extraordinary adventures.
---

1856-2006: a story of immense success
Having offered its readers an impressive series of legendary heroes – each more celebrated than the last – for over 150 years, the Bibliothèque Rose can take pride in being the oldest, best known and, most important, best loved of all French literary collections.
1852: Louis Hachette creates the Bibliothèque des Chemins de Fer (The Railroad Library) to offer travellers reading material during their train trips. The publisher then began the process of buying up newsstand concessions located in train stations (now the famous Relay stores!).
1856: Creation of the Bibliothèque Rose, done up in pink to distinguish it from the other collections of the Bibliothèque des Chemins de Fer (biographies, travel books, adventure stories and so on), which were also classified according to colour.
1924: After acquiring the vast holdings of the publisher Hetzel, whose catalogue included the works of Alexandre Dumas, Eugène Sue and Jules Verne, the descendants of Louis Hachette created the Bibliothèque Verte (the Green Library). The new collection affirmed its "adventure" orientation from the outset.
1929: Hachette signs the first agreement with Disney to publish novels based on the famous American cartoon characters Mickey Mouse, Donald Duck and company. From that moment on, the history of the collection regularly converges with some of the most successful audiovisual releases: Zorro, Casimir, Goldorak, l'Instit and, more recently, Totally Spies, Franklin and others.
1955: Inspired by the phenomenal success enjoyed by the works of Enid Blyton and Caroline Quine in the UK and United States, Hachette acquired their publishing rights. As a result, the Club des Cinq (The Famous Five) was published in the Bibliothèque Rose at the same time as Alice was published in the Bibliothèque Verte.
1970/80: TV heroes are welcomed into the Bibliothèque Rose: Candy, Pollux, Casimir and Goldorak, to mention just a few. It's the grand era of the Club Dorothée (The Dorothy Club). The cartoons are turned into novels, but digital publishing is not yet sufficiently advanced to reproduce the original illustrations, so they are redrawn.
1995: The classics (such as London, Curwood and Jules Verne) are removed from the Bibliothèque Verte collection and published by Livre de Poche Jeunesse (the youth paperback collection). From that point on, the Bibliothèque Rose and Bibliothèque Verte collections are exclusively devoted to series.
2001/05: Cartoon heroes enter the Bibliothèque Rose, with Titeuf at the head of the pack. The novelization of Titeuf is a resounding success (with the title selling over 100,000 copies). TV heroes also make a triumphant return with Totally Spies, Witch, Winx Club and more. The novelization of these series, with illustrations produced from screen captures, catapult the Bibliothèque Rose to the top of the French bestseller list for four consecutive years (2002-2005).
---
The seminal authors of the Bibliothèque Rose

The Comtesse de Ségur
Born Sophie Rostopchine on 1 August 1799 in St Petersburg, Russia.
Thanks to her husband, the Countess of Ségur became one of Louis Hachette's authors in the now famous pink-coloured collection of the Bibliothèque des Chemins de Fer (the Railroad Library), volumes that were primarily intended to keep children quiet during long train trips.

The first title to appear was Nouveaux Contes de Fées (New Fairytales), illustrated by Gustave Doré. The countess was 56 years old at the time. She wrote for her granddaughters, Camille and Madeleine de Malavet, who lived far away in London, where their father was the French ambassador. Composed mainly of dialogues, like plays, her books enjoyed great success. At her death in 1874, she left behind 20 books – one for each of her grandchildren.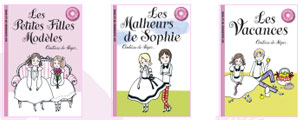 Le ton, les univers décrits et la morale ambiante renvoient à une époque révolue et qui paraîtra bien "exotique" aux enfants d'aujourd'hui. Pourtant, le charme continue d'opérer, en particulier avec certains titres comme Les petites filles modèles, Les malheurs de Sophie, Un Bon Petit Diable.
Enid Blyton
Born in 1897 in Dulwich, south of London.
After trying her hand at musical studies, Enid moved toward teaching, and developed a passionate interest in the methods of Dr. Froebel. She then became governess to the Thompson family. At the same time, she began to write poems, which she submitted to magazines, and was published several times. Together with a friend, illustrator Phyllis Chase, she published her first "real" book, Child Whispers, in 1922.
Other publications followed, with increasing success. She then met Hugh Polock, her publisher and future husband. They had two daughters: Imogen and Gillian. Enid published about 20 works before the war, and in 1942, the first title in the Famous Five series was published.
Georges Chaulet
Born in 1931 in Paris.
Chaulet began writing his first detective novels at the age of 15 or 16: "I wrote crime thrillers, which were quite popular at the time, during the breaks between two math courses." With his diploma in his pocket, he enrolled in the Beaux-Arts Academy in Paris, but in 1952 he was sent to Germany to perform his military service. His complete rejection of authority transformed his stay into a nightmare, but his writing gave him a new lease on life. This time, he was sure he had found his vocation: he decided to become a writer.

In 1957, he wrote Les 4 As Super Détectives (The Four Ace Super Detectives). He sent it to Hachette, but unfortunately the publishing house had signed its first contracts with a certain Enid Blyton in December of 1954 and refused to commit itself to another project. Not wanting to admit defeat, Chaulet went back to Hachette in 1960 with the manuscript of Fantômette. His tenacity paid off: an initial contract was signed, with neither party suspecting at the time that 49 titles would follow (the 50th title is due in 2006!).
Paul-Jacques Bonzon
Born on 31 August 1908.
A country schoolteacher (in the Vercors region, then later near Valence), Bonzon treated his young pupils to a treasure-trove of inventive tales, writing stories that he used to teach the rudiments of history and geography. Encouraged by his students, he decided to contact a publisher – and that publisher was Hachette. Several novels came out before the publication of the highly renowned Six Copains (Six Friends) series. The first title, Les Six Compagnons de la Croix Rousse ['Croix Rousse' is a working-class neighbourhood in Lyons], met with instant, resounding success. The series, now comprising 38 titles, was eventually translated into 16 languages.
Georges Bayard
Born on 20 March 1918.
After the war, Bayard got an interpreter's diploma in English and then turned naturally toward education. His teaching activities did not prevent him from occasionally translating novels for young people and beginning a career as a serial writer for children's magazines (Tintin and Mickey). It was then that he discovered his natural talent for writing. He sent Hachette his first manuscript: Michel Mène l'Enquête (Michel Conducts the Investigation), the start of what became a 38-title series. A very prolific writer, he also published several other series at the same time (Cécile and then César) as well as some one-off novels – in all, he wrote approximately 100 books!
---
2005 figures attest to continued success
Total sales: €20 million
Volume: 4.5 million copies
Growth rate: 7%
The Bibliothèque Rose is a major player in the youth paperback market, which exceeded 15 million copies by a wide margin at year-end 2005.
Hachette Jeunesse is the leader on the mass-merchandise youth paperback market, with sales from its catalogue broken down as follows: 80% in Bibliothèque Rose and Bibliothèque Verte; 20% in Livre de Poche Jeunesse.

---

150th anniversary year
March 2006: the classics get a face-lift
Sometimes spurred on by their parents – who are eager to bring back childhood memories – young readers are still avidly reading the adventures of Alice, The Famous Five, The Black Stallion and more. In 2006, the collection's 150th anniversary presented the perfect opportunity for the publisher to brighten up its image. Gérard Lo Monaco (Associés Réunis) designed a makeover with a "contemporary classic" look that features more delicate shades evoking the covers of the 1960s.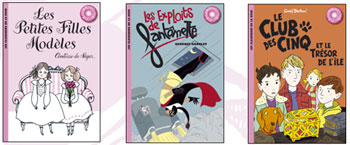 The Paris Book Fair (17-22 March 2006): two exceptional publications

La Saga de la Bibliothèque Rose by Armelle Leroy
After the handsome, generously illustrated book, Le Club des Cinq, Fantômette, Oui-Oui et Les Autres (published by Hors Collection last autumn), Armelle Leroy agreed to tell another, more history-oriented, more detailed version of the long, magnificent Bibliothèque Rose saga.
Since readers had asked for extracts from the novels that they loved as children, each period is enriched with two extracts from the era's seminal authors, and some 20 testimonials especially collected for the anniversary add an element of spice to this splendid chronicle.
Le Retour de Fantômette
Fantômette is back after an absence of 18 years with volume No. 50!
May-June 2006: a super cross-generational contest
During May and June, a photo contest will be launched for the general public with the following instructions to participants: "Pretend to be a reporter and photograph your family disguised as heroes from the Bibliothèque Rose/Bibliothèque Verte collections."
July 2006: The Bibliothèque Rose website opens to the public.
Come visit us at http://www.bibliothequerose.com


Email alert
To receive institutional press releases from the Lagardère group, please complete the following fields:
Register