Aéroports de Paris and Gulli Launch a New Play Area Concept


Category
Archives Lagardère Active
Paris, May 9, 2007
10 new play areas will be available in boarding lounges

Aéroports de Paris and the Gulli DTT* channel have signed a three-year agreement to create play areas for children in the Paris-Orly and Paris-Charles de Gaulle terminals. Starting May 2007, 10 new play areas will be available in boarding lounges to entertain the 7.2 million children under the age of 15 who pass through the airports every year. Thanks to these fun, welcoming and educational areas, which sport the colours and logos of both Gulli and Aéroports de Paris, children will have some pleasurable moments in the boarding lounge before setting off to discover the world.
Exploring Gullia's world
Following in the footsteps of Gullia, the channel's young 3D mascot and Planète Attitude ambassador, children will discover:
an interactive planisphere to locate their destination
a maze
a game of "spot the difference"
a brainteaser
a giant abacus
a mini-tunnel
a distorting mirror
and, of course, hopscotch, leading kids from Earth to sky
Every play area will also feature a television broadcasting Gulli programmes. All of these activities are designed to meet two objectives: entertaining children and providing their parents with a peaceful waiting period in the boarding lounge.
Unique play areas
This unique concept of play areas in the airports of Paris was based on a passenger survey conducted by Aéroports de Paris.
The results revealed that 63% of the children and teenagers interviewed wanted to watch entertaining cartoons during their wait in the airport.
According to Pascal Bourgue, Director of Marketing, Sales and Communications for Aéroports de Paris, "An increasing number of children are travelling by plane and they're a key focus of our service offering. With these new Gulli play areas, we're hoping to entertain them during their time at the airport and give them a desire to discover the world through high-quality educational games."
Emmanuelle Guilbart, Chairman and CEO of Gulli, is pleased with the partnership: "We're delighted with the quality and highly successful aesthetics of these areas, which were designed by C-L'Agence Event. The design is a perfect reflection of our channel's values. I hope these play areas will fully satisfy the objectives we set for ourselves when we and Aéroports de Paris first came up with the idea of giving children a pleasant foretaste of the holiday to come and a peaceful send-off for their parents."
Information Sheet
10 x 15-60 sq.m play areas
Scheduled openings: May 2007 in Paris-CDG Terminals 1 and 3, then in all Paris-CDG and Paris-Orly terminals by year-end 2008
Design and production: C-L'Agency Event
Project managers:
Aéroports de Paris: Olivier Tarneaud and Sylvia Romeo
Gulli: Sophie Malrieux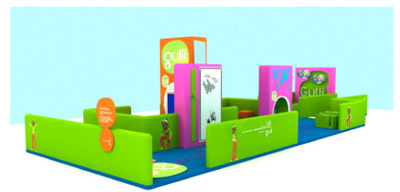 Aéroports de Paris builds, equips and operates airport platforms, including Paris-Orly, Paris-Charles de Gaulle and Paris-Le Bourget. Aéroports de Paris is the second leading European airport group in terms of airport sales and the number one European group in terms of freight and mail. Aéroports de Paris counts some 460 airline companies as customers, including the major players in the air transport industry.
Benefiting from an exceptional geographic location and a favourable market area, the Group is pursuing a strategy of expanding its reception facilities and improving the quality of its services and plans to expand its retail and real estate operations. In 2006, Aéroports de Paris generated sales of €2.076.8 million and net income of €152.1 million. That same year, 82.5 million passengers passed through its airports.
Gulli, France's No. 1 free children's and youth channel, produced by Lagardere Active Media in partnership with France Télévisions, has been available on DTT since November 18, 2005 on Channel 18.
More than 10 million households, or nearly 45% of French homes, have access to the channel, which is available on all media – DTT, satellite (CanalSat and TPS), cable (Noos, Numericâble, Est Vidéo Communication) and ADSL (Free, Orange, 9 Télécom, Alice and Club Internet) – until DTT is extended to the rest of the country. While designed primarily for children, Gulli also offers programming of interest to parents and a mix of generations. Offering animation series, drama, sitcoms, game shows, films, variety shows, documentaries, discovery shows and more, Gulli has something for the entire family!
* DTT: digital terrestrial television
Gulli Web Site
http://www.gullitv.fr
Aéroports de Paris Web Site
http://www.aeroportsdeparis.fr
* TNT : Télévision Numérique Terrestre
Email alert
To receive institutional press releases from the Lagardère group, please complete the following fields:
Register