A380 launch official – EADS welcomes the decision of Airbus supervisory board
Category
Corporate & other activities
Amsterdam, december 19, 2000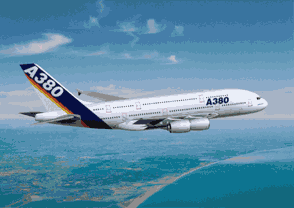 EADS European Aeronautic Defence and Space Company welcomes Tuesday's decision by the Airbus supervisory board to launch the A380-programme.
"The A380 is set to become the flagship of Europe's aerospace industry. We are now doing another step beyond by offering the largest and most up-to-date passenger aircraft in the world," explained the two Chairmen of the EADS Board Manfred Bischoff and Jean-Luc Lagardère in support of the decision. "The extremely positive reactions on the markets show that the A380 meets the customers' needs in an optimal manner."
The Co-Chief Executive Officers of EADS, Philippe Camus and Rainer Hertrich, stated: "EADS is the indispensable prerequisite for the promising A380 business case. By integrating the franco-german-spanish national champions in aerospace into EADS we have achieved the technological and financial basis for such a challenging programme. We are fully committed to make A380 a success. It will help leading EADS into a new dimension of profitable growth."
Airbus CEO Noël Forgeard stressed the significance of the programme for the range of products offered by Airbus: "With the launch of the A380 we are now closing the final large gap in our product spectrum. We are now able to offer aircraft in all the categories from single-aisle via widebody to megaliner and can therefore fulfil all the wishes our customers may have."
The A380 is to be offered in five passenger versions with capacities ranging from 481 to 656 seats and a freighter version with a 150 tonnes payload capability. Up to now, 50 firm commitments have been received from six airlines with options on a further 40 aircraft. Final assembly of the A380 is to take place at Toulouse and Hamburg where entire fitting-out of the interior and application of the paintwork are to be carried out. The maiden flight is planned for the year 2004, with the first production aircraft entering service early in 2006.
EADS was founded on 10 July 2000, when it emerged from the link-up of Aerospatiale Matra S.A. (France), Construcciones Aeronáuticas S.A. (Spain) and DaimlerChrysler Aerospace AG (Germany). With an 80 percent share EADS is the largest partner in the Airbus consortium, while the British BAE Systems holds a 20 percent stake.
Contacts :
Dr. Rainer Ohler - +49 (0)89 607 34 235
Miguel Sanchez - +34 (0)91 585 77 89
Roland Sanguinetti - +33 (0)1 42 24 24 26
Email alert
To receive institutional press releases from the Lagardère group, please complete the following fields:
Register