A Satellite Newspaper Kiosk
Category
Lagardère Travel Retail
Paris, January 14th, 2004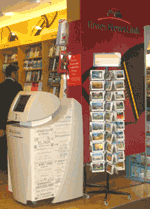 The TimesNewslink Singapore airport store is supplied, as of December 22nd, with a Satellite Newspaper Kiosk. This system enables customers to print on demand the same-day edition of their favorite newspaper.
This Kiosk is equipped with colorful, user-friendly interactive touch screens. You select the continent, the country/state, the newspaper and then insert your credit card. The machine prints the latest edition – high quality, 48 pages, stapled, publisher-edited edition – of the selected newspaper within only 2 minutes. The newspapers will be sold at US$ 5.50 per copy. The kiosk provides a choice of more than 120 national and international titles from all over the world and is constantly updated with the latest editions through satellite transmission. The targeted customers are mainly international business travellers.

The machine weighs 180 Kg but is rather slim-sized : 70 cm (27 inch) width – 143 cm (56 inch) height – 82 cm (32 inch) depth and fits well in the overall environment (see picture). TimesNewslink didn't invest anything for the Kiosk as the Satellite NewspaperKiosk local correspondent did install its own machine and assumed all installation costs (including the airport antenna). TimesNewslink will receive a percentage of the sales.
Email alert
To receive institutional press releases from the Lagardère group, please complete the following fields:
Register