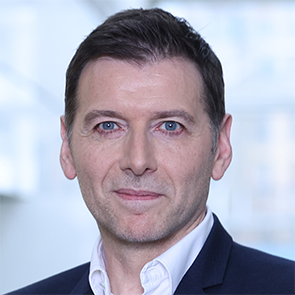 Alain Liberty
Head of Institutional Affairs, Lagardère News
Director, Europe 1
Lagardère News' media operations go green
The goals of the climate agreement initiated by the French government and the Regulatory Authority for Audiovisual and Digital Communication (Arcom) fit in fully with the actions proposed or already taken by Lagardère News.
The climate agreement is based on two main priority actions. The first, shared by all signatories, focuses primarily on advertising and publicity, while the second, which is more sector-specific, is dedicated to individual efforts.
As regards the first priority, we have adapted our Radio division's 2023 general terms of sale in order to pursue an ambitious sustainability-led approach. Our advertising sales brokerage business has come up with suitable advertising campaigns ("Future", "Echo label" and "Let's consume better") for products accredited by the French Agency for Ecological Transition (ADEME) or that advocate "consuming better" on a daily basis.
In terms of the second priority, we have taken the voluntary and unprecedented step of extending the obligations of the climate agreement to our press titles, surpassing sector commitments that are limited initially to our radio operations. This approach, which is reflected by the definition of "green editorial content" for all our press and radio outlets, has resulted in around 300 pages being published on these subjects, including two headline articles for Paris Match and Le Journal du Dimanche. Europe 1 also broadcast just over 20 hours of programming on 160 "green" subjects between September and December 2022, representing 27 million contacts with listeners aged 13 and over.
Lagardère News' commitment also entails raising awareness and training our editorial teams on issues relating to environmental responsibility. A number of journalists and editors in chief have already benefited from these trainings, which will soon be extended to all employees.
"More than 300 pages of green content produced by Lagardère News press titles in 2022."

Alain Liberty