The release of Fifty Shades of Grey by E. L. James (published by JC Lattès)

Category
Lagardère Publishing
Paris, October 17, 2012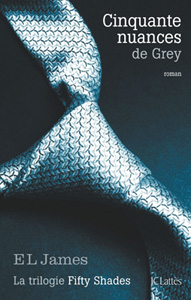 In brief
This is the first book in the Fifty Shades trilogy, which is setting the world aflame.
The author
E. L. James, a former television producer and married mother of two, lives in London. Since earliest childhood, she had dreamed of writing tales that readers would fall in love with, but she put her dreams on hold to devote herself to her family and career. Eventually, however, she found the determination to take up her pen to write her first novel, Fifty Shades of Grey.
The book
Romantic, liberating and totally addictive, Fifty Shades of Grey is a novel that will obsess you, possess you and stay with you forever. When literature student Anastasia Steele interviews wealthy young entrepreneur Christian Grey, she finds him very attractive and deeply intimidating. Convinced that their meeting went badly, she tries to put him out of her mind – until he turns up at the store where she works and asks her out.
Unworldly and innocent, Ana is shocked to find that she really wants this man, and when he warns her to keep her distance, it only makes her want him more.
But Grey is tormented by inner demons and consumed by the need to control. As they embark on a passionate love affair, Ana discovers more about her own desires, as well as the dark secrets that Grey keeps hidden away from public view.
The French releases of volumes 2 and 3, Fifty Shades Darker and Fifty Shades Freed, have been announced for January and February 2013 respectively.
Translated from the English by Denyse Beaulieu
Email alert
To receive institutional press releases from the Lagardère group, please complete the following fields:
Register