The Outil en Main (Tool in Hand) organization receives the Europe1Solidarité Award
Category
Archives Lagardère Active, CSR
Paris, May 12, 2014
True to its promise, Europe 1 launched the third Europe1Solidarité Award this year. The panel met today to select the 2014 winner. The purpose of the award is to support an organization by giving it visibility via Europe 1. The award reflects the ethos of the station in the same way as the Restos du Coeur appeal nearly 29 years ago.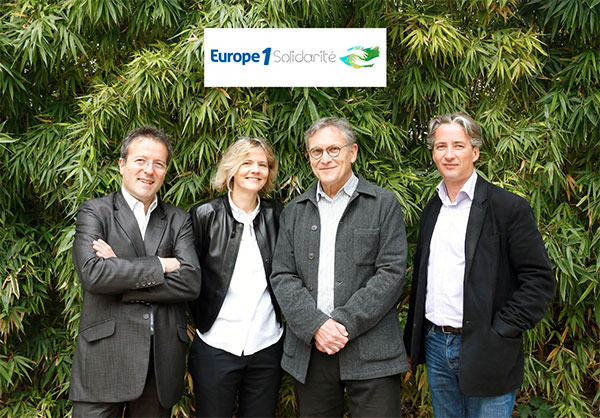 For this third award the panel, comprising Florence Aubenas (journalist, chairman of the International Prisons Observatory), Martin Hirsch (Managing Director of Paris public hospitals (AP-HP) and co-Chairman of the Enterprise and Poverty Action Think Tank), Nicolas Poincaré (former senior reporter, journalist at Europe 1 and presenter of Europe 1 Soir) and Rony Brauman (former Chairman of Médecins sans Frontières – winner of the Nobel Peace Prize in 1999), met to select the winner of the Europe1Solidarité Award.
The L'Outil en Main organization will receive support from Europe 1 in the form of a free publicity campaign worth €100,000 and broadcasts on the station's airwaves. This exposure will allow the organization to spotlight the cause it supports and increase listeners' awareness of its activities.
The purpose of L'Outil en Main is to introduce young people aged 9-14 to manual trades and to have tradespeople, craftsmen and other skilled workers (all volunteers and generally retired) teach the youngsters how to use real tools in real workshops. It enables men and women who are rich in experience to remain active in life while passing on their trade to a younger generation. The workshops are places for young and old to gather and interact in both rural and urban environments. Their purpose is to promote manual crafts and trades, building trades and heritage skills such as tiling, carpentry, roofing, masonry, metalworking, mosaics, plumbing, stonecutting, arts and crafts, cooking and catering, manufacturing trades and more.
Representatives of the L'Outil en Main organization will be guests of Nicolas Poincaré on Europe 1 Soir on 23 May 2014 at 6:50 pm.
In 2013, AuditionSolidarité.org received the Europe1Solidarité Award. This international organization provides deaf and hearing-impaired children throughout the world with hearing aids, as well as vulnerable homeless deaf and hearing-impaired adults living in France. These hearing aids are sourced from donated hearing aids that are no longer in use.
In 2012, the Association Nationale Le Refuge, which combats isolation among young homosexuals and transsexuals in broken family situations, received the Europe1Solidarité Award.
Email alert
To receive institutional press releases from the Lagardère group, please complete the following fields:
Register