The launch of 'FEMINA'

Category
Archives Lagardère Active
Paris, February 6, 2002
The first issue of a new weekly that combines the supplements Version Femme and Femina Hebdo will come out in early April. The new magazine will be called Femina.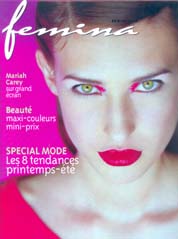 Its carefully selected editorial team will work under the direction of Constance Poniatowski, Chief Editor.
Ownership of the title's publisher, Société de Presse Féminine (SPF), will be divided equally between the HACHETTE FILIPACCHI MEDIAS and SOCPRESSE groups. SPF will function using joint services provided by these groups.
Femina, which will be distributed by 32 regional daily newspapaers, will have a paid circulation in France of 3.6 million, making it the top European women's weekly.
Advertising space will be brokered by INTERQUOT, a subsidiary whose ownership is evenly split between INTERDECO and PUBLIPRINT.
Press Contacts:
Marie Muzard - Aurélie Olivier - Kathrin Shurrer
Tel: 33 1 41 05 09 60 - Fax: 33 1 41 05 09 67
Email alert
To receive institutional press releases from the Lagardère group, please complete the following fields:
Register