The Creation of Team Lagardère

Category
Archives Lagardère Sports and Entertainment, Corporate & other activities
Paris, May 17, 2005
At 9:00 am on Tuesday 17 May 2005 at the Paris Jean-Bouin stadium, Arnaud Lagardère presented the first stage of his company's corporate strategy in the field of the sports.
He recalled its involvement in the Paris Jean-Bouin club and its support for some of the brightest stars in French tennis (Richard Gasquet, Michaël Jeremiasz, Nicolas Mahut, Paul-Henri Mathieu, Gaël Monfils, Arnaud di Pasquale).
He then announced the creation of Team Lagardère and its technical coaching support platform, initiated by Xavier Moreau (Sports Manager of Paris Jean-Bouin), which will be directed by a management team composed of the following members:
Christian Miller, previously manager of INSEP's Biomechanics and Physiology lab, who will become the manager of Team Lagardère's technical platform;
Annie Riquet and Jean-Michel Levèque, previously teacher-researchers at the INSEP, who will assist Christian Miller;
Rémi Barbarin, responsible for the development of the Lagardère Tennis Team.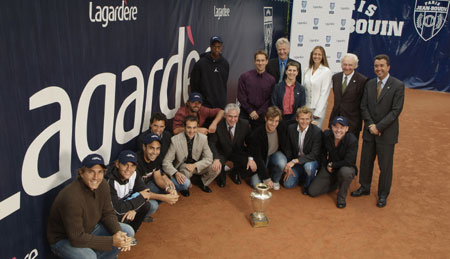 © Dahmane
This constitutes the Lagardère Group's first venture into the area of sports content. Focusing initially on tennis, Team Lagardère's mission is to rapidly becoming a multi-sport organization.
For Arnaud Lagardère, "This policy in the field of sports is an approach that makes sense for the Lagardère Group. It is a new opportunity to express our aspirations to achieve optimal levels of responsiveness, performance and progress. We are committed to building an innovative sports strategy over the long-term, on a human scale, that will reflect excellence and passion. With Team Lagardère, our objective is to create a unique undertaking that will become a leader in its field."
Press Contacts and Information:
Email alert
To receive institutional press releases from the Lagardère group, please complete the following fields:
Register