The Bescherelle Verb Conjugator: a new iPad app!
Category
Lagardère Publishing
Paris, December 21, 2010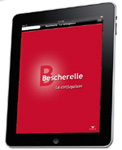 This instantaneous smart-search device for the iPad helps you conjugate 10,000 French verbs
After the success of its iPhone verb conjugator, released in 2009, Bescherelle has come up with an all-new, innovative iPad app.
Smart search
You can find a verb instantly:
By typing its first letters, even if you make a spelling or typing error.
By entering an inflected form.

The app automatically recognizes the infinitive verb from the inflected form. Better still, it offers a precise analysis of this form.
Fluid, highly responsive navigation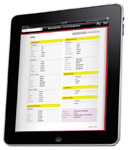 This extremely light app can be downloaded directly to the iPad without using a computer, and it starts immediately. It also displays the new recommended spellings for the French language. Feel free to request access codes to try it out!
The Bescherelle Conjugator was the most frequently downloaded pay iPhone application for several weeks in January 2010.
iPad application released on 24 December 2010.
Launch price: €1.59.
Find all Bescherelle reference works at www.bescherelle.com.
Email alert
To receive institutional press releases from the Lagardère group, please complete the following fields:
Register