Télé 7 Jours has a new, easier-to-read format

Category
Archives Lagardère Active
Paris, April, 21, 2006
Télé 7 Jours, the leading large-format general-interest TV magazine, is changing rapidly to keep pace with the latest developments on the TV scene in France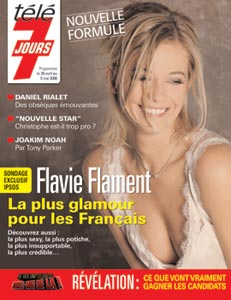 Its fresh format, enriched with a number of new features (including information on series, dramas and comedies, documentaries and more), is clearer and easier to read, and that's not all: the space devoted to free Digital Terrestrial Television (DTT) has been doubled to keep pace with the current viewing habits of French families.
With its vast array of channel listings, Télé 7 Jours is emerging as the standard reference for helping viewers select their programmes and for offering advice and advance information on the latest trends to hit the small screen.
The first part of Télé 7 Jours is now organized according to three major headings devoted exclusively to television: Vu, Actu and Voir (Seen, Hot Topics and Listings). These three sections are followed by general magazine content, featuring a consumer-oriented approach devoted to other family interests ranging from culture to ideas for outings, including such topics as well-being and home decoration along with the popular game pages.
With 7.2 million readers (AEPM 2005) and 1.7 million copies distributed each week (OJD – DFP 2005), Télé 7 Jours is the No. 1 French TV weekly targeted at the general public – and at €0.95 per issue, it is also the most affordable.
Work on this new format began last February, coordinated by the magazine's managing editor Thierry Moreau. Its launch is being supported by a substantial promotional campaign that includes television advertising.
Télé 7 Jours Web Site
http://www.t7j.com
Press contacts:
Valérie BLONDEAU - Komunik'Actions- Relations Presse - 33 (0)1 49 68 59 76 - fax : 33 (0)1 49 68 12 13 - vb@komunik-actions.com
Email alert
To receive institutional press releases from the Lagardère group, please complete the following fields:
Register