TeamLagardère to sport Lacoste logo

Category
Archives Lagardère Sports and Entertainment
Paris, June 3, 2008
Since they share the values of excellence, innovation and authenticity, Lacoste and TeamLagardère have decided to join forces and become official partners, with the common goal of promoting and supporting French tennis.
An innovative professional sports organization, TeamLagardère helps top athletes improve their performance and provides them with assistance that is specially tailored to their needs.
The entire Lagardère team (including trainers, strength and conditioning coaches, doctors, scientific experts and physiotherapists) will now wear clothing and accessories with the Lacoste crocodile logo on the ATP and WTA circuits in France and abroad.
The Lacoste brand was created by sports champion and inventor René Lacoste, whose ingenuity, hard work and tenacity are echoed in TeamLagardère's spirit and mission.
TeamLagardère has three Lacoste ambassadors within its ranks: Richard Gasquet, Alizé Cornet and Michael Llodra.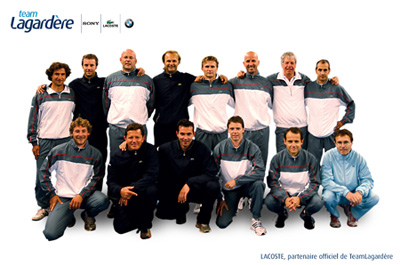 Email alert
To receive institutional press releases from the Lagardère group, please complete the following fields:
Register