Talent Grants 2007 : Twelve young professionals in the fields of culture and the media to receive awards from the Jean-Luc Lagardère Foundation

Category
Corporate & other activities, CSR
Paris, December 10, 2007
Spotlight on the winners in 2007
On 10 December next in the Édouard VII Theatre (Paris 9th arrondissement), the Jean-Luc Lagardère Foundation will be awarding the "Talent Grants 2007" to twelve 12 young professionals in the fields of culture and the media who submitted an original and innovative project in the following categories: Writer, Film Producer, TV Screenwriter, Musician, Bookseller, Print Journalist, Photographer, Documentary Writer, Animation Filmmaker and Digital Creator.
The total amount to be awarded in Grants this year stands at €270,000.
In 2007, two new Talent Grants have been created: the Documentary Writer Grant (€25,000) and the Animation Filmmaker Grant (€30,000). These new Grants extend the scope of the Foundation to include all disciplines in the audiovisual field.
The 12 Winners in 2007


Documentary Writer Grant – €25,000
Julien Hamelin – age 27
Winning project: To introduce viewers to "Nollywood", Nigeria's film industry, third biggest producer of films in the world.
Digital Creator Grant – €25,000
Laurent Bourcellier – age 23
Winning project: To create a Coptic digital typeface suitable for editorial use.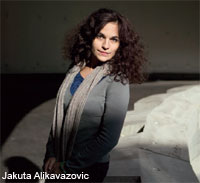 Writer Grant – €25,000
Jakuta Alikavazovic – age 28
Winning project: To paint a satirical portrait of a generation that lives simultaneously in the highly concrete city environment and in the virtual networks that make up today's world.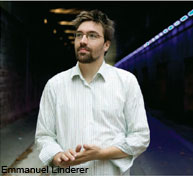 Animation Filmmaker Grant – €30,000
Emmanuel Linderer – age 29
Winning project: To make "Les mains dans les poches", a short film about an encounter between a crane driver and businessman.
Special Prize – €10,000
Camille-Elvis Théry – age 25
Winning project: To make a vision and sound poem on the metamorphosis of the North Pole.
Print Journalist Grant – €10,000
Manon Quérouil – age 27
Winning project: To paint a portrait of the young Mullahs of modern-day Iran, taking the holy city of Qom as the starting point.
Special Prize – €5,000
Jean Abbiateci – age 26
Winning project: To follow the trail of French computers as they travel from France to China for recycling.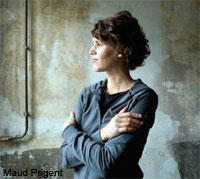 Bookseller Grant – €30,000
Maud Prigent – age 35
Winning project: To build up the Encrage bookshop in Kourou to make it a key driver for the promotion of reading French Guiana.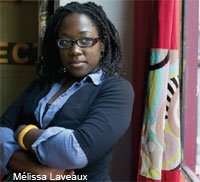 Musician Grant – €25,000
Mélissa Laveaux – age 22
Winning project: To produce a professional version of Camphor & Copper, my first self-produced album of acoustic music (folk blues with a Haitian beat).
Photographer Grant – €15,000
William Daniels – age 30
Winning project: To paint the portrait of an emerging democracy, Kyrgyzstan, as it is born against the backdrop of complex geopolitics and renewed East-West rivalry.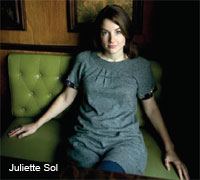 Film Producer Grant – 50,000
Juliette Sol – age 30
Winning project: To produce "La tête la première", a sentimental road-movie and Gilles Tillet's first feature length film.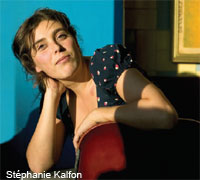 TV Screenwriter Grant – €20,000
Stéphanie Kalfon – age 28
Winning project: To write and make a comedy combining childhood, family madness and psychoanalytic therapy.
The winners of the Talent Grants awarded by the Jean-Luc Lagardère Foundation are chosen by panels of eminent figures from the worlds of the media, art and culture: Edmonde Charles- Roux, (Writer Panel), Pierre Lescure (Film Producer Panel), Vincent Beaufils (Print Journalist Panel), David Burnett (Photographer Panel), Jean-Marie Sevestre (Bookseller Panel), Bruno Patino (Digital Creator Panel), Marc Thonon (Musician Panel), Pascale Breugnot (TV Screenwriter Panel), James Mitchell (Animation Filmmaker Panel) and Hervé Chabalier (Documentary Writer Panel).
The Talent Grants: a springboard for young creative artists
The Talent Grants have been awarded since 1989 to help young professionals under 30 years of age (under 35 in the case of booksellers) in the fields of culture and the media make their projects a reality. Providing much more than financial assistance, the Talent Grants are a genuine springboard for the subsequent development of their careers. Among the 152 past winners of Grants from the Jean-Luc Lagardère Foundation are writers such as Florian Zeller and Yann Moix, and film producers such as Olivier Delbosc (Jean-Philippe, Anthony Zimmer, L'Avion).
With this initiative, the Jean-Luc Lagardère Foundation is once again expressing its ambition to assist young talent and support all forms of creativity.
Photos of the winners can be obtained from the press relations department.
The Jean-Luc Lagardère Foundation
Whether the field is sport or culture, the ambition of the Jean-Luc Lagardère Foundation is to create excellence, to rebuild confidence and to promote social ties. For this reason the Jean-Luc Lagardère Foundation supports young talent, creative artists, people with projects that develop solidarity. Its mission is to seek out and create excellence in sport and culture, to add value to exceptional sport and culture venues and to help the city's most disadvantaged inhabitants.
TeamLagardère and Lagardère Paris Racing are the cornerstones of the Jean-Luc Lagardère Foundation's commitment to sport.
TeamLagardère is an innovative organization based at the Paris Jean Bouin Club whose role is to help high-level professionals in their training. TeamLagardère has a centre for the application of scientific expertise to sport which brings together the highest levels of scientific specialization in the fields of sports research, training and coaching. TeamLagardère is also an organization focused on the training of young hopes for the future at its Sophia Antipolis site, offering them a dual route to excellence: high performance in sport and personal development. TeamLagardère can provide customized solutions for high-level athletes, with coaching in school subjects, vocational education and a programme for retraining to match age and career path.
Lagardère Paris Racing is an ambitious project for sport in Paris. With over 18,500 members, including fourteen sports sections, and based at two sports facilities, Croix Catelan and Eblé, Lagardère Paris Racing is the leading multidisciplinary sports club in Europe. Its mission is to develop all aspects of the practice of sport in the French capital: high levels of performance with the expertise and coaching of Team- Lagardère, sport for leisure, sport for health and sport for the disabled. Its longer-term ambition is to define the broad lines of a new French model for sport directed at strengthening the concept of the high-level sports club.

Hopscotch Press Contact :
Anne-Sophie Morizot - Tel. 33 1 58 65 00 88 - Email : asmorizot@hopscotch.fr
Jean-Luc Lagardère Foundation Contact :
Quiterie Camus - Tel. 33 1 40 61 72 37 - Email : qcamus@lagardere.com
Email alert
To receive institutional press releases from the Lagardère group, please complete the following fields:
Register