Sony, Fnac and Hachette Livre announce the formation of a partnership to market the Reader, the first comprehensive digital reading solution.

Category
Lagardère Publishing
Paris, September 25, 2008
The partnership seeks to provide a full-service solution for book lovers.
Sony contributes leading-edge technology,
Fnac brings an extensive distribution network and the option of downloading content via Fnac.com,
while Hachette offers some 2,000 digitized books.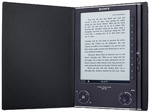 The Sony Reader can store up to 160 booksand provides access to a wide range of reading materials on a compact mobile device.
The Reader will be available exclusively at Fnac stores and via Fnac.com as of late October, or by reserving a unit in advance at Fnac.com starting in mid-September.Once the Reader goes on sale, it will only be possible to download books from the Fnac.com website, which will offer a catalogue of some 2,000 books selected by Hachette Livre.
The initial selection comprises some 2,000 titles published by Hachette Livre (from Fayard, Jean-Claude Lattès, Grasset, Le Livre de Poche, Hachette Littératures, Armand Colin, Calman-Levy and Marabout) and its partners, Albin Michel in particular. The catalogue, which will be expanded every week, offers enduring works from our backlist, including bestsellers from such authors as Michel Onfray, Max Gallo, Erik Orsenna, Benoîte Groult, Bernard-Henri Levy, Boris Cyrulnik, Katherine Pancol and Eric-Emmanuel Schmitt, as well as new releases, including a large selection of titles published this fall, such as Le Fait du Prince by Amélie Nothomb and Miserere by Jean-Christophe Grangé (both from Albin Michel), Ce Que Nous Avons eu de Meilleur by Jean-Paul Enthoven (Grasset) and Du Cristal à la Fumée by Jacques Attali (Fayard).
"This partnership allows us to offer a complete package based on the Reader. It's perfect for those who want access to a large selection of books on a compact mobile device. The Reader's launch in France opens new opportunities for book lovers," says Philippe Citroën, managing director of Sony France.
"The partnership provides Fnac customers who are passionate about both books and technology with a turnkey solution. Electronic books make reading easy, enjoyable and practical. Our goal is to add all of our editorial products to our digital catalogue by the end of the year so that we can offer our customers the widest selection, ranging from classics to bestsellers, as we do in our stores," says Christophe Cuvillier, chairman and CEO of Fnac.
"Through this partnership with Sony and Fnac, Hachette Livre is taking a significant step forward in implementing its digital strategy, as it did in the United States. The partnership will let readers experience a whole new way of reading based on an extensive list of titles that will expand over time," adds Arnaud Nourry, chairman and CEO of the Hachette Livre group.
Product information
Weighing only 260 grams and with a battery that allows readers some 6,800 pages on the go, the new Reader will serve as a trusty companion during the daily commute or trips abroad. In addition to books, the Reader supports personal and professional documents in a number of formats (ePub, Adobe PDF, RTF, TXT, BBeB book and MS Word, automatically converted into RTF by the software provided) as well as images in the JPEG, PNG, GIF and BMP formats plus mp3 and AAC audio files.
The device's storage capacity can always be increased by adding a memory card (SD or Memory Stick™*).
And thanks to its "E Ink®"* electronic screen, it offers the same reading comfort as a traditional book. What's more, it has three zoom options that allow the reader to enlarge the text size.
* E Ink is a trademark of E Ink Inc.
* Memory Stick is a Sony trademark.

Email alert
To receive institutional press releases from the Lagardère group, please complete the following fields:
Register