Relay France opens its first 'La Cure Groumande' store

Category
Lagardère Travel Retail
Paris, July 17, 2009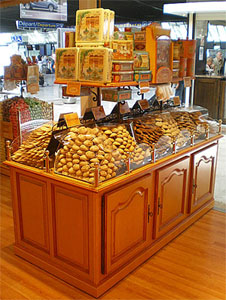 After taking up residence in Passage Jouffroy in the 9th arrondissement in Paris, La Cure Gourmande opened its doors at Nice Airport's terminal 2 on Friday June 19th.
A combistore measuring 50m² now welcomes travellers under 2 banners: "La Cure Gourmande" and "Produits Régionaux" – enough to satisfy any craving!
The first results are extremely encouraging. The concept is a popular one, as the many photos taken by passengers of the shop front attest!
Congratulations to Sandrine Mereu and her team for this more than satisfying start.
Contact :
Lagardère Services Internal & Corporate Communication Manager
Alexander Twose - +33 1 42 99 07 01 - TWOSE@lsnet.fr
Email alert
To receive institutional press releases from the Lagardère group, please complete the following fields:
Register