Public (from HFM) confirms its success story

Category
Archives Lagardère Active
Paris, July 27, 2005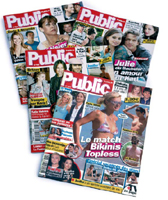 With total July circulation of 430,000 copies.

Public racks up 341,253 copies in total paid circulation (source: July 2004-June 2005 DSH), an increase of 62% over the 2003-2004 DSH*.
The total monthly circulation of HFM's people magazine, Public, reached 430,000 in July 2005.
With a readership of 1,152,000 individuals (AEPM 2004), 74% of whom are female, and 70% in the 15- to 34-year-old age bracket, Public is the most widely-read magazine among this younger generation of female readers.
* DSH: company's own figures
Email alert
To receive institutional press releases from the Lagardère group, please complete the following fields:
Register