Psychologies Magazine launches its 11th international edition in Belgium

Category
Archives Lagardère Active
Paris, September 14, 2010
The Psychologies Group, with the support of Lagardère Active, is continuing to deploy its brand abroad with the launch of a new edition of its magazine for Belgium – the 11th international edition to date.
Published under license by Edition Ventures (Elle Belgique), this new edition comprises two magazines sold separately, one in French and the other in Dutch (Flemish). Edition Ventures set up two editorial teams to accomplish this, both based in Brussels and each representing one of the two main Belgian communities: the Walloon (French-speaking) and Flemish (Dutch-speaking) populations.
As a way of addressing the country's cultural divisions, the first issue of the French-language edition looks at how "mixed" couples deal with cultural tensions while the Dutch-language edition examines the concept of solidarity during the economic crisis.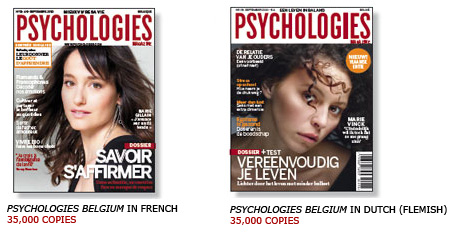 According to Arnaud de Saint-Simon, chairman of the Psychologies Group, "This partnership allows us to do more than we could with the Belgian version we were producing in Paris. This second launch in 2010, after Greece in April, confirms Psychologies Magazine's position as a major international brand."
Press contacts:
Publisher contact:
Arnaud de Saint Simon (chairman)
About the Psychologies Group
Since the 2004 launch of the first international edition in Italy, the Psychologies Group has continued to grow and now has a presence in 11 countries outside France, including Italy (circulation: 100,000 copies), Spain (30,000), the UK (119,000), Russia (360,000), China (800,000), South Africa (31,000), Romania (20,000), Mexico (95,000) and Greece (40,000), as well as Belgium and Australia. In France, it is among the leading titles in women's publications for both circulation (340,000 copies, according to the OJD) and readership (2.595 million).
Psychologies Magazine now has a total network of 12 editions worldwide (France plus international) and is read every month by nearly 5 million readers who want to live better lives.
Email alert
To receive institutional press releases from the Lagardère group, please complete the following fields:
Register