Pre-celebrations of Elle's birthday bash

Category
Archives Lagardère Active
Paris, October 10, 2005
Elle turns 60 on November 21, 2005 !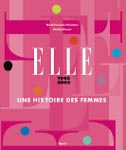 The weekly magazine Elle will celebrate its 60th birthday with a special advance event held in partnership with Fnac, from October 19 to November 26. Several generations of women (and men!) have lived their lives with Elle for three score years now, sharing fashion crushes and the fight for women's freedoms, emotions and enthusiasms, light-hearted fun and humour. Elle has served as a companion to women, writing their history with them through more than 3,100 issues.
The book: "Elle 1945-2005, une histoire des femmes"
Marie-Françoise Colombani and Michèle Fitoussi have put together a selection of the most emblematic articles and photographs to appear in the magazine since its inception. Fashion, beauty, family, politics, sexuality, work-all of the magazine's favourite topics are discussed and commented on in this hefty tome. The illustrated book, an event in and of itself, traces the intersecting history of women and society, as women shake up, transform and help advance society.
Scheduled for publication on October 19, Editions Filipacchi, 276 pages, €30.
The exhibition: "Elle 1945-2005, le travail est à la mode"
This exhibition traces the evolution of women's labour via seven covers and 35 reproductions of double-page fashion spreads. From secretary's dresses to businesswomen's suits, "work attire" illustrates changes in fashion and the way Elle documents the conquest of female independence through fashion photography. It also highlights Elle's support for women in this battle. Everything from Chanel suits patterns to gas station attendants' overalls are featured.
Singled out for special attention, the Elle Business Foundation, created on 4 December 2004, will show how Elle puts its editorial positions into action. The goal: to "show how educating girls is the best development tool".
Exhibition at the Ternes Fnac (Paris 17th arrondissement), Lyon, Marseilles, Bordeaux, Lille and Montpellier beginning October 19. Discussions With hosts Valérie Toranian, Marie-Françoise Colombani and Michèle Fitoussi, guests who are expert in each field will present their views on the following three topics.

"Conquest, enthusiasm, guilt and inequalities: the women's work adventure". Scheduled for 5:30 p.m. at the Ternes Fnac (Paris 17th) on November 3, in Lyon on November 14.
"Contraception, sexuality and new families: the private life of French women". Scheduled for 5:30 p.m. at the Ternes Fnac (Paris 17th) on November 8, in Bordeaux on November 23.
"From couturier patterns to the undergarment craze: fashion evolution and revolution".
Scheduled for 5:30 p.m. at the Ternes Fnac (Paris 17th) on November 9, in Marseille on November 15.
Press Contact :
Catherine Roger - Tel : 33 1 41 34 68 10
Email alert
To receive institutional press releases from the Lagardère group, please complete the following fields:
Register