Our moroccan students explore berlin

Category
Archives Lagardère Active, CSR
Paris, July 18, 2014
The Juste pour Eux association – an ELLE Foundation partner since 2013 – offers tailor-made support to young Moroccan students whose families are from the rural region of Souss. The aim is to help them get the most out of their training in Agadir as well as to get all the odds in their favour as they make the transition to working life.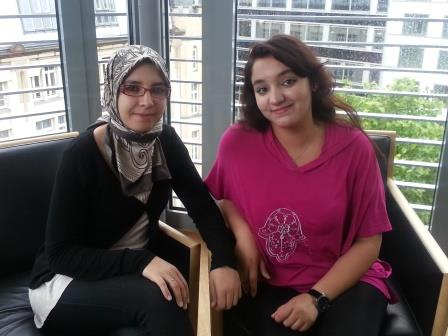 That's how Asma and Meriem came to leave Morocco for the first time on a trip to Berlin, where their agenda included cultural visits and meetings with German professionals connected to their areas of study.
Meriem, who is studying Spanish, served as an interpreter at the Cervantes Hispanic Centre at the time of her visit. And Asma, who is preparing for her business-school entrance exams, received a VIP welcome from the Potsdam Chamber of Commerce.
For Meriem, these six days spent exploring German culture were unforgettable: "I truly discovered a whole new world."
We would like to wish our students a good trip home, where they are looking forward to sharing their experience with their classmates!
Chloé Freoa
Email alert
To receive institutional press releases from the Lagardère group, please complete the following fields:
Register