New ELLE Foundation projects launched in the Democratic Republic of Congo, Nepal and France in 2014

Category
Archives Lagardère Active
Paris, July 22, 2014
On 19 June 2014, our Board of Directors met to approve four new projects put forward by the ELLE Foundation team.

The young Nepalese women of the SAXO-Nepal project
For the first time, the ELLE Foundation will provide support for women victims of rape as a weapon of war in the Democratic Republic of Congo, in partnership with the French NGO Les Ecoles de l'Espoir, the Panzi Foundation and Dr. Denis Mukwege. This wonderful doctor treats and operates on female survivors of sexual violence in eastern Congo's Bukavu region and, at the risk of his life, denounces what he has witnessed on a daily basis.
The ELLE Foundation has also chosen to intervene in Nepal, one of the worst places in the world to be born a woman. Nearly 70% of the country's women are victims of violence, and suicide is the leading cause of death among Nepalese women. The number of girls and women who are victims of trafficking in Kathmandu is estimated at 40,000. In view of these sad statistics, the ELLE Foundation wishes to shed light on this little-known reality and support the Planète Enfants project, which aims to reintegrate vulnerable young women by teaching them to sew and make bags that will be sold locally and in France.
The ELLE Foundation has not forgotten women living closer to us, in France. With Maison Echiquier, our foundation will enable a young scholarship student who has just graduated from secondary school to be housed free-of-charge in Paris and enjoy academic and human support throughout her preparatory classes for the grandes ecoles (colleges of higher education).
Since 2012, the ELLE Foundation has continued to welcome and support a "femme en avenir" (woman with a future) from the Alain Ducasse association. The programme includes a living-expenses grant and apprenticeship training at Lagardère Active's executive restaurant.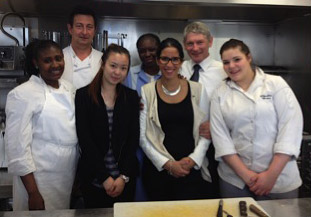 Simina, on the left, a "woman with a future,"
surrounded by Lagardère Active restaurant staff.
In 2014, the ELLE Foundation is still active through its partner NGOs in various countries, including Afghanistan, India, Madagascar, Mali, Morocco, Burma, the Philippines, Republic of Congo and Chechnya.
Email alert
To receive institutional press releases from the Lagardère group, please complete the following fields:
Register