LS travel retail NORTH AMERICA brings the Digital lifestyle to Vancouver

Category
Lagardère Travel Retail
Paris, September 15, 2011
LS travel retail NORTH AMERICA and Boutique iStore Canada are pleased to announce the opening of two new iStore locations at Vancouver International Airport (YVR).
Situated at pre-security domestic departures level and at gate C46, both locations will provide travelers with a true mobile digital lifestyle destination. Both stores carry various electronics, from e-readers to laptops to tablets and accessories such as headphones, cases and chargers. iStore carries industry-leading brands in Apple, Sony, Shure, Nintendo, Monster, iLuv and Sennheiser, and so much more. The highly dedicated staff are specially trained to advise travelers and provide answers to any questions they might have, while also guiding them through the signature iStore demo tables where they are free to cut their teeth on a wide selection of new products.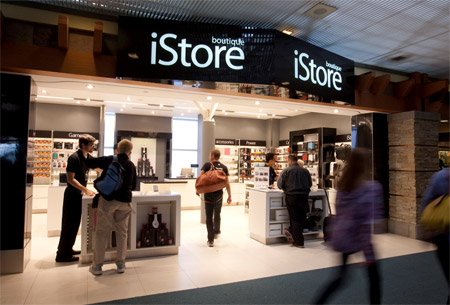 With the grand opening taking place on August 11, YVR travelers and airport workers now have access to the best digital lifestyle experience ever. "We are ecstatic about the two new iStore locations. The store design is absolutely beautiful, the staff are exceptional, very knowledgeable and helpful. It's first-class service and sales are impressive so we can't ask for more", commented Susan Stiene, Director Retail and Passenger Services at YVR.
Earlier this year, Boutique iStore Canada signed an exclusive agreement with LS travel retail NORTH AMERICA which includes the exclusive rights to develop and operate iStore airport locations across North America. The new YVR locations are the first "new generation" concept stores opened since then.
"We are very excited to partner with Boutique iStore. We believe that the concept has captured a very specific niche in digital lifestyle retailing and that it will fill a gap in the current airport retail landscape. Developing this concept is very much in line with our promise to energize our airports' concessions programs and we are proud to bring the first of our new generation stores to YVR", says Jonathan Alpert, Vice President of Merchandising for LS travel retail NORTH AMERICA.
Present at the ribbon-cutting ceremony, Mike Battat, co-founder of Boutique iStore Canada commented: "We are thrilled to have opened two iStore locations at YVR that bring our unique brand of digital lifestyle retailing to west coast travelers. Our first few days of sales well exceeded expectations and we are optimistic that the trend will only continue to improve as we learn more about the specific needs of the YVR customer."
Email alert
To receive institutional press releases from the Lagardère group, please complete the following fields:
Register