Launching of Elle Decor India
Category
Archives Lagardère Active
Levallois, December 12, 2000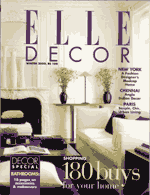 ELLE Décoration appears on news stands in India today, making it the last magazine to be launched by the Hachette Filipacchi Médias group in this millennium.
This new edition written in English, is published by Hachette Filipacchi Médias and Ogaan Publications, already a partner to ELLE* magazine in this market.
ELLE Decor Inde
The first issue of ELLE Decor Inde contains 160 pages, 25 of which are devoted to advertising, and the print run is 35,000. Sold for 100 rupees (about 16 francs), the magazine is aimed particularly at a new and privileged Indian women generation which has been to university. These readers speak English, work and want to open their minds to the spirit and mix of styles typical of ELLE Décoration.
ELLE Décor will be the first decoration magazine proposing a wide range of interiors, both Indian and international, enriched with shopping pages and practical advice.
Six Indian journalists put the magazine together in Bombay under Chief Editor Pramiti Madhavji, previously Artistic Director and editor of the decoration section of the Indian version of ELLE. ELLE Decor will appear every three months.
HFM, world leader in home decoration magazines
This new publication brings to 18 the number of ELLE Décoration editions around the world and to 27 the number of decoration magazines published by the Hachette Filipacchi Médias group in France and other countries.
Home decoration is one of the most important segments of the magazine press, in terms of the number of editions, the circulation (25 million copies of all titles sold per year) and the advertising pages (12,400 pages per year).
*Also published in an English version since 1996 (circulation: 65,000 in 1999).

The year 2000 was marked by the group's vigorous growth in this press segment, with the take-over of three publications from the Bonnier group: Le Journal de la Maison, Mon Jardin, Ma Maison and Campagne et Décoration. Moreover, an edition of ELLE Décoration was launched last October on the Polish market.

Hachette Filipacchi Médias : 27 home decoration magazines around the world

Email alert
To receive institutional press releases from the Lagardère group, please complete the following fields:
Register