Launch of Gulli

Category
Archives Lagardère Active
Paris, November 18, 2005
Gulli has made a special date with children for the launch of a unique youth channel on the DTT network…
Keep your eyes peeled!
The CSA has entrusted us with the only free digital terrestrial frequency intended solely for children.
To be sure, we are honoured by this choice, but we also feel the weight of our responsibility. In fact, almost 75% of children in France do not currently have access to a dedicated youth channel, and more than anything else, Gulli is intended for them.
We therefore decided to create a channel that supports their cause – the cause of children in France and elsewhere. To accomplish that goal, we will draw on the experience of the Lagardere Active and France Televisions teams in the area of youth programming. Admittedly, this is an ambitious objective for a television channel, since the greater part of a child's developmental journey is determined by family, teachers and friends; TV can only facilitate or stand in the way of that journey. Our goal was therefore to attempt to nurture and support them on their way. We intend to back their cause with parents, all types of educators and others by endeavouring to promote an understanding of the mysteries of the 10-year metamorphosis that leads from childhood and dependence to emancipation – from the age when they first discover reading to the age of their first emotional involvements!
Gulli will be built gradually over the coming months and years. There is no prior model for a free children's channel in France and we will need to be inventive and find the proper economic balance, which we know can be fragile. Gulli will be launched on 18 November: on that day, our rocket will launch into the heavens. Nothing terribly spectacular – we are not yet heading for the moon, but we are definitely travelling in that direction…
Jean-Pierre Cottet,
Administrateur Délégué de Lagardere Active Broadcast

The France Televisions group is pleased to announce the launch of Gulli in association with Lagardere Active.
Thanks to the complementary programming of France 2, France 3 and France 5, which together offer nearly 50 hours of weekly programming for children and young people via digital terrestrial television (DTT) broadcasting, it is on France Televisions' various channels that children and teenagers currently spend the most time watching programmes specifically created for them.
Gulli gives us the opportunity to go further still by providing a completely free channel dedicated solely to children and their parents. Gulli will complement other public channels and, by increasing the number of programmes, will allow us to strengthen the commitments of the France Televisions group in support of creativity.
My goal for public television is for it to become a partner for the family on a day-to-day basis. Gulli will play an essential role in accomplishing that objective.
Patrick de Carolis,
Président de France Télévisions

---
Gulli: the first free youth channel!
On 18 November at 6 p.m., Gulli has a date with children for the launch of a unique youth channel on the DTT network – soon to be accessible to all, free of charge.
Intended for children ages six to 15, Gulli is a channel that will reflect their interests and concerns like a mirror, and will help them to see further than the end of their noses! It will be fashioned in their image – amusing and daunting, but also involved in the world that surrounds them. It will resound with their words, their ideas, their bursts of laughter, their questions, their desires and their curiosity, with the objective of nurturing and supporting them on a day-to-day basis at the time in their lives when growing up is an incredible adventure. Gulli is much more than just another youth channel!
Free to all, with a wide variety of programming, Gulli will naturally offer cartoons but also sitcoms, documentaries, short programmes, games and other broadcasts. Gulli is a channel that will entice children, coaxing them to act for themselves and for others, to learn to live together and, of course, to have fun.
As a channel focusing on childhood, Gulli shows that it is different by also aiming itself at parents. Through special programming, Gulli intends to initiate dialogue and discussion and to provide points of reference and advice to adults regarding their children's reality, with the objective of serving as a medium for contact and exchanging ideas between generations.
At the time of its launch, Gulli will be accessible to nearly seven million families via all its various means of access (digital terrestrial television of course, but also cable, satellite and ADSL), and it will soon be available to everyone in France thanks to the DTT network's nationwide coverage. This dovetails with Gulli's singular goal: to be a new channel serving children and young people, available to all.
To complement Gulli in this adventure, child psychiatrist Marcel Rufo has honoured this brand new channel by agreeing to chair its programming ethics committee.
---
Gulli with a G, as in…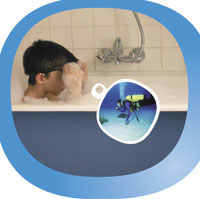 Giant!
Because Gulli has crossed Gulliver's path – who was by turns a little person among giants and a giant among the Lilliputians – and because everyone's point of view is valuable, the channel feels it is important to give everyone the chance to participate, be they large or small.
Great!
Because children are not yet adults, and because they need to have fun while growing up, Gulli also delights in offering them lots of fun programmes. What's more, children feel at home with Gulli because we listen to them, watch them and show them as they are.
Generous!
Because children are a part of society, because they are better informed than ever before, because they consider themselves citizens not only of their schools and their neighbourhoods but also of Europe and the world, and because they want to be useful, to fight against injustice and act to protect the environment, Gulli nurtures their generosity and feelings of solidarity. Because they will be the adults of tomorrow, Gulli is a socially responsible channel, fully invested in causes that affect children.
Good for the whole family!

Because families are changing, because children are no longer considered the centre of the universe but rather active members of the family, and because more and more families are deciding together what they will watch on TV, Gulli is a channel that can be shared by the whole family.
---
G is for Gulli

The channel's visual identity and the Gulli logo are based on the letter G: an ornamental initial, a continually evolving cell that symbolizes growth and evolution, a window on the world, and a key to unlocking the channel's riches…
Eight basic, bright, joyful colours
A colourful, rhythmic, living world, a visual identity that is contemporary and elegant, fluid and playful, drawing on the connection between children and adults.
Gulli's "voice" is that of a big sister for children and a young mother for parents – a friend with whom they can talk about the joys and problems encountered by all parents.
---
Gulli's programming schedule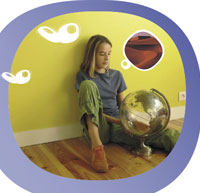 Every day from 6:30 a.m. to 11:00 p.m., Gulli will offer a programme schedule adapted to the pace of children's and parents' lives and schedules, taking into account school terms, holidays, weekends and more.
While the general-audience national channels schedule children's programming early in the morning, Gulli dedicates all of its airtime to children, day in and day out, except when they are at school or in bed.
Gulli for children
Cartoons:
In the morning, there's Gulli Gulli for the little ones, and then Gulli Gang, the action comedy show for when they come home from school, as well as two all-cartoon evenings each week on Tuesdays and Saturdays.
Sitcoms:
Sitcoms are aired every day at lunchtime and then later in the day until 9:00 p.m. for older children.
Gulli for everyone
Programming for all ages includes:
An evening special featuring entertainment, circuses, magic acts and the like on Friday evenings.
On Sunday afternoons, family shows include a 52-minute series and animal documentaries.
Gulli for parents

When the kids are at school or in bed, Gulli caters to parents with:
A.D.O.S.*: a handling guide for parents (1), presented by Anne Gintzburger

A.D.O.S.* is a daily broadcast to help parents better understand their tots, teens and 'tweens, aired during the week in the morning and in the evening just before the channel goes off the air for parents who work.
Monday is theme night with A.D.O.S.*: la Spéciale, featuring a social documentary followed by a broadcast of the latest episode of A.D.O.S.*.
(1) "Ado" is French shorthand for "adolescent".
Gulli's programme schedule will be livened up and enriched by special programming on topics that concern children, starting on Sunday 20 November, in recognition of International Children's Rights Day. On this occasion, the first broadcast of A.D.O.S.*: a handling guide for parents will get a special airing on a Sunday and will examine the various articles of the Convention on the Rights of the Child, including children's own views regarding their rights.
Explore the Gulli website

Gulli will also be on the web as of its launch date. In addition to passing on programme information, the objective of Gullitv.fr is to develop into a true sounding board for the channel by quickly becoming a meeting point for dialogue and interaction with viewers.
Email alert
To receive institutional press releases from the Lagardère group, please complete the following fields:
Register