LAROUSSE.FR The Internet's first true encyclopaedia to accept contributions from users

Category
Lagardère Publishing
Paris, May 15, 2008
The Larousse.fr encyclopaedia is set to make its Internet debut on 13 May 2008. With free access, Larousse.fr will be the first user-contribution encyclopaedia to offer users the opportunity to consult articles put forward by a reference editor as well as those published by a community of contributors.
LAROUSSE.FR TODAY
A unique interface with multiple content levels
With a simple click of the mouse, anyone can access 150,000 articles plus media resources comprising some 10,000 items (photos, drawings, animated images and more) offered by Larousse, as well as articles published by user-contributors.
Respect for copyright
Each contributor remains the copyright owner and sole author of his or her article, and will have the option of signing it if he or she so wishes.
A Larousse.fr for each contributor
All contributors will have their own personal space where they can introduce themselves, stay informed about new publications on their favourite themes, locate all of their own contributions and receive an alert whenever a comment is posted regarding one of their articles or photos.
Contributing is easy and entertaining
Registering as a Larousse.fr user is easy to do and free. The content of each article contributed is posted online in just a few seconds and may be consulted by any visitor to the site.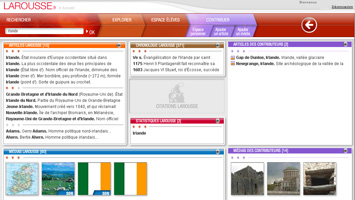 LAROUSSE.FR TOMORROW
Larousse.fr will continue to be enhanced in the months ahead with:
New Larousse encyclopedia content in all knowledge fields.
New functionalities to make it easier to consult Larousse.fr and exchange information and comments with other contributors.
A daily, close-up look at current events.
LAROUSSE press relations:
Email alert
To receive institutional press releases from the Lagardère group, please complete the following fields:
Register