Lagardère Unlimited rebrands to Lagardère Sports and Entertainment

Category
Archives Lagardère Sports and Entertainment
London, 15th September 2015
A new name and brand to reflect a new integrated business
The sport and entertainment agencies of the Lagardère Group announced today that they are being renamed under a common corporate brand: Lagardère Sports and Entertainment. This new brand will replace the brand of Lagardère Unlimited as one of the four divisions of the Lagardère Group.
In addition, all sports marketing agencies within this division, including Sportfive, World Sport Group, IEC in Sports, Sports Marketing and Management and Lagardère Unlimited Inc., will now be unified under a single commercial brand, being Lagardère Sports with all entertainment businesses under the brand Lagardère Live Entertainment.
"Sport and Entertainment is in our DNA. We have a rich history that started nearly 50 years ago. To consolidate our ambitions, we set out on a series of strategic acquisitions. As our integration continues, the launch of our unified brand is a logical and necessary outcome. The Group is transforming and the recent reorganization has already yielded positive results. We're combining our forces to be stronger, more agile and to capitalize on growing opportunities in the sports and entertainment business," said CEO Arnaud Lagardère.
With respect to its sports business, unifying the legacy brands of the sports agencies that operate within the division under a single brand is a logical step following the decision of management in 2014 to integrate its businesses globally. The various businesses forming Lagardère Sports have been gradually integrated over the last 12 months in order to take advantage of the division's global capabilities in over 60 offices in 25 countries and to deliver a more integrated service to its clients.
With these changes, Lagardère Sports is now a globally integrated sports marketing agency, delivering a full range of services for sports rights holders, brands, athletes and media companies, including:
Marketing, sponsorship and hospitality services
Content creation, media rights, production and distribution
Brand consulting, activation and digital services
Stadium and arena management solutions
Athlete management
Event management
"This new single brand expresses the Group's new organization and our corporate culture. Global as well as local, positioned across key geographies and spanning key value segments, with a robust network of marketing and media experts, we are confident in our ability to create value for our clients, in a more global and integrated way", added Andrew Georgiou, Chief Operating Officer.
History of Lagardère Group's presence in sports and entertainment:
The Lagardère Group's presence in sports and entertainment started 50 years ago with company founder Jean-Luc Lagardère's activity as a horse breeder and his creation of Matra Sports, the racing division of the Matra car company. The acquisition of Sportfive in 2006 marked the foundation of the Lagardère group's fourth division, Lagardère Unlimited. Since then, Lagardère has strengthened its position in the sport industry with a series of strategic acquisitions to consolidate the Group's ambition in the sport business. With IEC in Sports in Sweden, Upsolut in Germany, Asia's World Sport Group and Best and Gaylord in the United States, the branch successfully evolved into an agency with worldwide reach, offering a full spectrum of sports business services from marketing and rights management through to athlete management.
List of agencies that will change name: Lagardère Unlimited Inc., Sportfive, World Sport Group, IEC in Sports, Sports Marketing And Management, Lagardère Unlimited Stadium Solutions, Lagardère Unlimited Live Entertainment
Press kit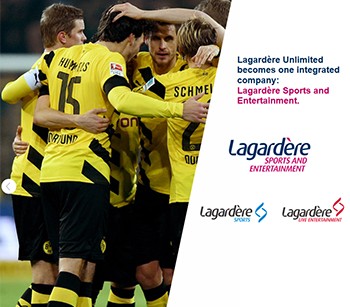 About Lagardère Sports and Entertainment
Lagardère Sports and Entertainment is a leading sport and entertainment agency, with a global network of local experts dedicated to delivering innovative solutions that meet our clients' needs. We believe sport and entertainment inspire emotions and passion that are essential to enrich people's lives and generate powerful collective experiences. At Lagardère Sport and Entertainment, we dedicate our expertise and passion to provide our clients with privileged access to the infinite opportunities of sports and entertainment. Lagardère Sports and Entertainment has more than 1,600 employees worldwide and 50 years of experience.
Email alert
To receive institutional press releases from the Lagardère group, please complete the following fields:
Register