Lagardère Unlimited announces the creation of Lagardère Unlimited Live Entertainment

Category
Archives Lagardère Sports and Entertainment
Paris - April 5, 2011
Lagardère Unlimited, the Sport industry and Entertainment company of the Lagardère group, today announces the creation of a new entity: Lagardère Unlimited Live Entertainment.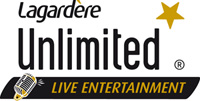 Placed under the leadership of Jérôme Langlet, this new structure brings together all of the group's activities relating to live entertainment, operating in three complementary business lines:
Production of live performances and events: Lagardère Unlimited Live Entertainment will further develop and consolidate the group's existing businesses in this high-growth sector: the production of major musical theater presentations (recent examples include Mozart l'Opéra Rock, Cendrillon and Dracula) and the organization of events produced on behalf of specific brands, such as the Elle en Scène series and La Nuit de Velours. Lagardère Unlimited Live Entertainment will also produce tours by performing artists.
Venue management: As a fitting complement to its activities in the production of live entertainment and with the recent acquisition of a stake in the company operating the Zénith concert hall in Paris, Lagardère Unlimited Live Entertainment extends its reach into venue management.
Artist representation: Building upon Lagardère Unlimited's expertise in the representation of athletes and the management of their marketing rights, Lagardère Unlimited Live Entertainment will provide a full range of representation services to performing artists, helping them to maximize their earnings in this flourishing market.
Jérôme Langlet and his team of dedicated and seasoned professionals bring a proven track record of achieving results in the entertainment industry. Langlet's team will also be able to draw upon Lagardère Unlimited's extensive marketing expertise while leveraging the numerous synergies between the sport and entertainment universes, making Lagardère Unlimited Live Entertainment a partner of choice in this market. Jérôme Langlet will report directly to Arnaud Lagardère.
"With the creation of Lagardère Unlimited Live Entertainment, we bring together within the same Business Unit the sport and live entertainment activities. These businesses have a lot in common and synergies are significant. We believe we have the appropriate know-how within the whole company to boost their development" Arnaud Lagardère.
Jérôme Langlet – Biography
Jérôme Langlet began his career with the advertising and marketing agency Euro RSCG in 1993, before joining the multimedia group NRJ in 1995, where he served as Event Manager for the NRJ brand and later as Head of Communications and Promotion for the radio station Chérie FM. In 2000, he joined aufeminin.com as its Marketing and Communications Manager. He then served as Director of Communications for both Europe 2 and RFM beginning in 2002. In 2006, Lagardère named him as Senior Vice President in charge of the group's music businesses, including the brands Virgin Radio, Virgin 17, RFM and MCM. From 2008 until his appointment at the helm of Lagardère Unlimited Live Entertainment, Jérôme Langlet served as Head of Operations – Music for Lagardère Active and as Director of Lagardère Active Spectacles.
Among its businesses, the talent management business unit of the Lagardère group, Lagardère Unlimited, representing some of the world's best athletes in Sports and Entertainment, including Tennis, Football, Basketball, Rugby, Sailing, Mixed Martial Arts, Fencing, Track and Field, Swimming, Motorsports, Cricket, Golf, Coaches, Living Legends and Entertainment. Lagardère Unlimited also works in the areas of broadcast rights, corporate marketing initiatives, and sports properties for sales/sponsorship opportunities. The company operates worldwide with offices in NY, LA, Miami, Paris, Singapore. Currently, Lagardère Unlimited represents some of the best sporting clients around the globe; including Andy Roddick, John Wall, Dwight Howard, Randy Moss, Sachin Tendulkar, Joakim Noah, Sébastien Chabal, Gaël Monfils and Justine Henin.
For more information on Lagardère Unlimited, visit www.lagardere-unlimited.com
Lagardère is a pure media group (books, press, broadcast, digital, travel retail and press distribution, sport industry and entertainment), and is among the world leaders in the sector. Lagardère shares are listed on Euronext Paris (Compartment A).
Email alert
To receive institutional press releases from the Lagardère group, please complete the following fields:
Register