Lagardère Travel Retail expands its strategic partnership with Inflyter

Category
Lagardère Travel Retail
Paris, 5 July 2023
Two years into their partnership, Lagardère Travel Retail and Inflyter take their collaboration further to digitalize the Duty Free shopping experience for more travelers and provide them with enhanced opportunities to browse and buy items ahead of travelling. This extended partnership supports Lagardère Travel Retail's overall digital strategy to diversify digital sales channels and multiply touchpoints to engage customers throughout their journey.
Building on their first successful collaboration at Geneva International Airport, Lagardère Travel Retail and French travel retail technology scale up, Inflyter, are announcing a new milestone in their partnership which now covers eight key European hubs: Geneva, Rome, Nice, Warsaw, London Luton, London City, Luxembourg and Prague. The partnership, initiated in 2021 during the pandemic, has been a way to test new innovative ways to engage customers and it is now entering into a new phase as traffic has returned. Ahead of travelling, customers passing through these airports are now able to browse and buy the full catalogue of Duty Free items in core categories, using the Inflyter ecommerce platform. Through Inflyter's investment relationship with Collinson, the operator of the original and market leading airport experiences programme, Priority Pass, Lagardère Travel Retail can now reach over 20 million travelers.
Through enhanced design and functionalities, the Inflyter platform offers a fast, convenient and fully digitalized shopping experience to passengers. Travelers can discover, check availability and complete their purchase Duty Free items online before they travel. The online experience matches that presented in-store with travelers able to benefit from the same range of price promotions and special offers. In addition, the range of order collection and delivery methods has expanded to meet passenger expectations and now includes in-store collection, smart locker collection, gate delivery and airport lounge delivery in some locations.
The development of the partnership with Inflyter is an important step towards the realization of Lagardère Travel Retail's strategic roadmap to create more digital experiences for travelers, to diversify its digital sales channels and to multiply touchpoints to engage customers throughout their journeys. With this partnership, Lagardère Travel Retail also aims to maximize the potential for non-aeronautical revenues for airports, by securing additional sales from passengers who may not usually buy or have less time at the airport, and who prefer to shop online on their way to the airport or before leaving home.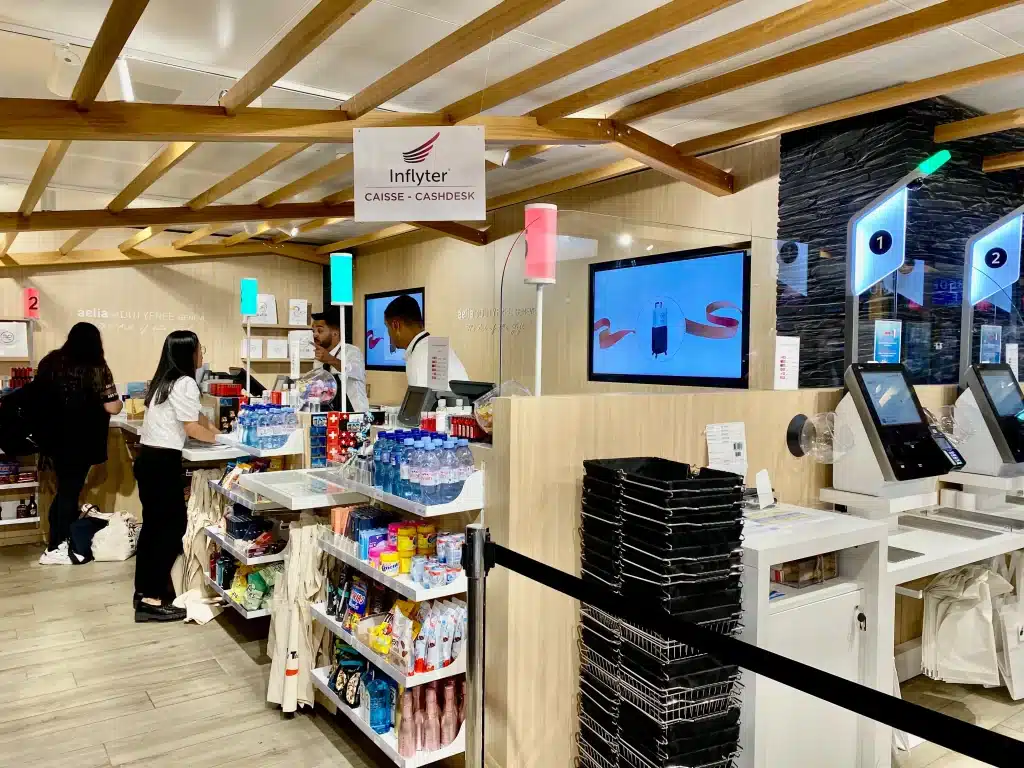 Commenting on this announcement, Lylian Vignau, CEO of Lagardère Travel Retail Duty Free Global, said: "We are exploring all opportunities to capitalize on digital technologies to transform and improve passengers' Duty Free shopping experience, to secure new revenue sources and serve new customers. We are thrilled to be taking our partnership with Inflyter further to achieve these objectives and demonstrate how digital offerings can complement the in-store experience and maximize our potential to reach more customers before they get to the airport. We look forward to leveraging Inflyter's comprehensive digital solutions and enabling Collinson's frequent travellers to shop duty free online at our European hubs."
Julien Debray, Head of Digital of Lagardère Travel Retail Duty Free Global, added: "Our history with Inflyter began more than two years ago and we are now moving up a gear with this key step. It is a new milestone in the development of our digital strategy, one of the pillars of which is to reach out to more and more travelers before they travel, to offer them innovative services with real added value, and also to provide more online visibility for our brands and our offers. Finally, this demonstrates Lagardère Travel Retail's ability to work in a very agile way with start-ups, but also our capacity to develop and industrialize partnership."
Wassim Saadé, Founder and CEO of Inflyter, stated: "We are delighted to be a strategic digital partner of Lagardère Travel Retail and that our proprietary travel retail technologies are playing an important role in improving the online shopping experience for travelling consumers across their network of locations. Inflyter's unique ability to present online Duty Free shopping experiences to audiences of digital savvy, mass affluent, frequent travelers who want to shop but prefer to spend their time at the airport in a lounge, combined with the extensive network offered by Lagardère Travel Retail, creates an compelling partnership proposition to secure incremental retail revenue and further expand the digital channel opportunity."
ABOUT LAGARDERE TRAVEL RETAIL

One of the two divisions of Lagardère group, Lagardère Travel Retail is a leading global Travel Retailer, with the longest standing expertise of holistically serving the needs of travelers and partners across Travel Essentials, Duty Free & Fashion and Foodservice. Lagardère Travel Retail operates over 5,000 stores in airports, railway stations and other concessions in 42 countries, and has generated €5.2 bn in sales (100%) in 2022.

Through locally-empowered teams and value-creating partnerships, Lagardère Travel Retail develops comprehensive and authentic travel experiences. Lagardère Travel Retail is championing sustainability in Travel Retail through a dedicated CSR strategy, aligned to the United Nations' Sustainable Development Goals.

www.lagardere-tr.com ● @LagardereTR
Contact
Emeline Bizot - Communications Manager
Email alert
To receive institutional press releases from the Lagardère group, please complete the following fields:
Register