Lagardère Publicité's "Emma je t'aime" campaign voted best B-to-B campaign

Category
Archives Lagardère Active
Paris, June 10, 2008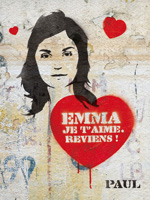 CB News magazine published the results of its Grand Prix des Médias (Media Awards) on Monday 9 June, awarding Lagardère Publicité the Best B-to-B Campaign prize for its original cross-media PR campaign, "Emma je t'aime," created by the La Chose agency.
In a complex, difficult advertising environment, Lagardère Publicité stood out for an impressive campaign that effectively demonstrated the complementarity of the group's media and the strength of the media-buying agency's offering.
The success of this far-reaching campaign, which spotlighted the cross-media approach, definitively established Lagardère Publicité as an innovative, multiple-media agency in close contact with its advertisers.
With the benefit of the media-buying agency's extensive experience, which has seen exponential development since 2004, and with more than 70 custom, cross-cutting operations conducted in 2007 alone, Lagardère Publicité continues to give its customers optimal service with a unique offering of 180 media and non-media brands.
Email alert
To receive institutional press releases from the Lagardère group, please complete the following fields:
Register