Lagardère Plus joins forces with Conforama, the main sponsor of the Ligue 1 Conforama!
Category
Archives Lagardère Active, Archives Lagardère Sports and Entertainment
Paris, September 17, 2018
Lagardère Plus, the division of Lagardère Sports and Entertainment that provides consulting and activation services to advertisers, is proud to join Conforama for the next two seasons, which has been the main sponsor of the Ligue 1 Conforama French Championship since the 2017/18 season. To fully activate its partnership, the brand chose Lagardère Plus to help it set up two facilities for the fans.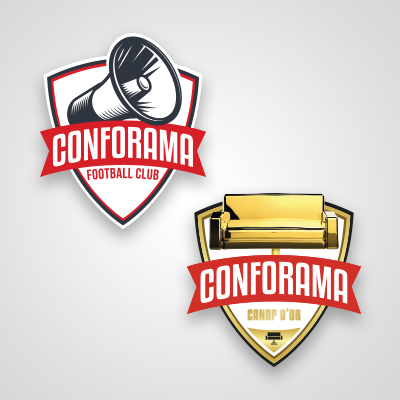 The Conforama FC:
Lagardère Plus will be in charge of Conforama FC's newsfeeds and animations on their Facebook, Twitter and Instagram accounts relating to statements about the Ligue 1 Conforama (creation of daily content, community management and daily live follow-ups of the Ligue 1 Conforama).
The Trophée du Canap d'Or:
On the back of the individual awards given to professional footballers each season, the supporters' official manufacturer, Conforama, and Lagardère Plus created and launched the Trophée du Canap d'Or concept. Each month, the Ligue 1 Conforama supporter with the greatest knowledge of the championship's history will receive a prize.
Each month, a new quiz goes live on the platform canapdorconforama.fr and internet users can attempt it. They need to score as many points as possible within a 90-second timeframe.
Each month, the top-scoring fan will be awarded the Trophée du Canap d'Or of the month as well as an exclusive prize.
At the end of the season, the fan who scores the most points will be awarded the Canap d'Or of the season, an annual subscription, a shirt of his favorite club, a voucher worth 1000€ that can be redeemed at Conforama and a Samsung QE55Q7F 55 inch 4K QLED TV.
10 videos will be shot and broadcast throughout the season so that Conforama can advertise this campaign to the fans. The videos will feature players from five partner clubs (the AS Monaco, the Stade de Reims, the FC Nantes, the AS Saint-Etienne and the Girondins de Bordeaux) who will personally answer questions about the championship). The videos will also be broadcast on Conforama social media channels.
View the campaign teaser by clicking on the picture (only in french version):
See the Quiz video with the Monaco players by clicking on the picture (only in french version):
Hervé Bodinier, Executive General Manager of Lagardère Plus: "We are very proud to support Conforama in the activation of its partnership with the Ligue 1 Conforama French Championship. This strategic activation enables us to demonstrate our expertise in the football world and gives the agency a unique opportunity to showcase its digital know-how. Through the name Ligue 1 Conforama, we confirm our leadership in the activation of partner brands in the football world."
Email alert
To receive institutional press releases from the Lagardère group, please complete the following fields:
Register