Lagardère Active launches Maison & Déco, the ultimate site for your home decor projects!


Category
Archives Lagardère Active
Paris, March 28, 2012
Already a leader in decor publications with more than 7 million readers*, Lagardère Active is consolidating its online position by launching a portal to bring together the expertise of five major print titles: Art & Décoration, Maison & Travaux, Le Journal de la Maison, Mon Jardin & Ma Maison and Campagne Décoration. In addition to this unique editorial offering, the site will feature a range of innovative services, including an exclusive 2D/3D module and integration with Dékio, the 100% decor-related search engine.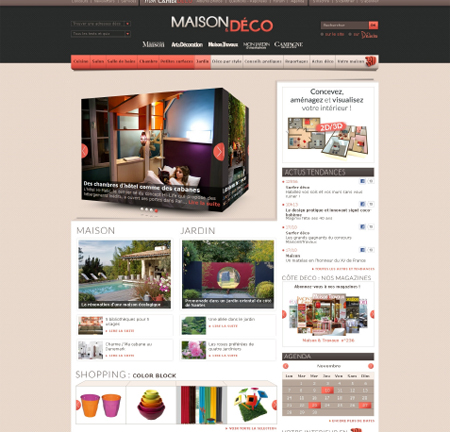 Maison & Déco, a comprehensive site devoted to home and garden:
Rich content covering multiple topics, including new features every day provided by the five magazines and a dedicated team of journalists.
An easy-to-use 2D/3D module to create, lay out and visualize your interior by choosing from a library of more than 350 pieces of totally customizable furniture.
A graphics-rich site that breaks the mould for typical decor sites, with a high-end look that devotes most of its space to images.
A practical, service-oriented site that can be browsed by piece or by style, an address book with more than 6,000 entries, a 100% décor-related search engine, practical information sheets, a decor calendar and more.
A personal space where you can view your favourite content (articles, projects, forums etc.) and share your photos, questions and passions with the community and experts from the editorial staff.
Whether you are designing a small space, creating or beautifying a yard, renovating a country house or simply giving your home a new look, Maison & Déco is there to support all your home and garden projects!
Inspiring – Creative – Practical
Lagardère Active contact press
Maison & Déco contact press
Email alert
To receive institutional press releases from the Lagardère group, please complete the following fields:
Register