Lagardère Active aquires the Massin Group, France's leading publisher of home decor magazines

Category
Archives Lagardère Active
Paris, April 30, 2008
The Massin group, a leading player in the home decor magazine segment in France, publishes Art & Décoration and Maison & Travaux.
Art & Décoration, founded in 1897, is the most widely read magazine in France among monthlies and bimonthlies, all categories combined, with 5,716,000 readers (AEPM 2007).
Maison & Travaux, founded in 1981, boasts a total of 4,221,000 readers (AEPM 2007), making it the undisputed leader in its market segment.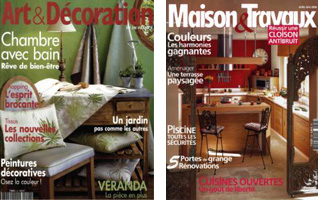 These two magazines perfectly complement Lagardère Active's portfolio, which includes among its priority segments upscale lifestyle and general-interest magazines primarily targeted at women (ELLE, ELLE Décoration, Le Journal de la Maison, Campagne Décoration, etc.).
Bruno Lesouëf, Managing Director of Publications at Lagardère Active stated: "We are proud and happy to welcome these prestigious titles to the Lagardère Active family. These magazines have not only contributed to the development of a model for prestige magazine publishing, but have also helped promote France's particular style of the "art of living" worldwide. It is an exciting challenge for Lagardère Active to develop these two brands in line with our global strategy, with its multimedia dimension and international scope."
Jean Massin, CEO of the Massin Group said: "I am delighted that this great family adventure, which produced two distinguished exemplars of the art of living, will continue to prosper within a large French media group."

This asset was acquired from Jean Massin and CIC Investissement, a core shareholder.
Email alert
To receive institutional press releases from the Lagardère group, please complete the following fields:
Register