Lagardère Active – Appointment

Category
Archives Lagardère Active
Paris, September 1, 2014
Christophe Thoral has been appointed Senior Vice President Finance, Strategy and Development of Lagardère Active.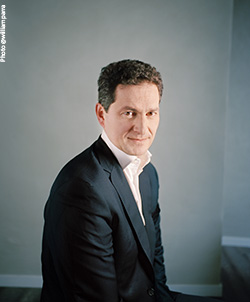 Denis Olivennes,
Chairman and Chief Executive Officer of Lagardère Active, announced the appointment of Christophe Thoral as Senior Vice President Finance, Strategy and Development.
In addition to responsibility for the Legal, Finance, Purchasing and Property departments, Christophe Thoral will draw on his expertise and experience to define and implement Lagardère Active's strategy.
He will focus in particular on supporting the development and accelerating the growth of the group's brand universes.
Mr Thoral will report to Denis Olivennes and is a member of Lagardère Active's Executive Committee.
He has taken up his responsibilities effective September 1st.
For the departments reporting to him, Christophe Thoral has:
• appointed Dalila Zein Finance Director to replace Rémy Pierre who has stepped down in agreement with Lagardère Active;
• broadened the responsibilities of Purchasing Director Pascal Traineau and named him Director of Purchasing and General Services;
• confirmed Garance Dupuis as General Counsel.
Christophe Thoral, 47, is a graduate of ESCP Europe business school and holds an MBA from the Wharton School. He started his career with the Bolloré group, and then served as a project manager at McKinsey before joining the Lagardère group in 2000 as deputy director of strategy and development. He joined Lagardère Entertainment as development director in 2008 and has been its COO since 2010.
Dalila Zein, 39, holds a degree from EDHEC business school. She began her career in audit, at PwC and joined the Lagardère group in 2000 as a management controller. She held the position of finance director of the magazine publishing business segment from 2008 to 2012. Ms Zein has been deputy finance director of Lagardère Active since November 2012.
Pascal Traineau, 49, holds a degree in econometrics and graduated from the Institut d'Etudes Politiques (IEP) in Paris in 1988. He joined the Deloitte Touche Tohmatsu auditing firm in 1989. In 1991, he joined Hachette Filipacchi Associés where he served as a management controller and then as managing director for magazine publishing. In 2008, he was named director of operations and became director of purchasing in 2013.
Garance Dupuis, 48, studied business law and international law at the University of Paris II-Assas and earned a Master's in European law from the College of Europe in Bruges in 1989. A member of the Paris Bar since 1993, she worked two years at the European Commission in Brussels, three years for the Paris law firm Kahn & Associés and five years with France Telecom. She joined Lagardère's Corporate Legal Department in January 2000. After managing mergers and acquisitions for the Group's Media activities, she served as manager of the Economic Law and Regulations division. Since February 2011, Ms Dupuis has been Lagardère Active's General Counsel.

Photos available upon request
Email alert
To receive institutional press releases from the Lagardère group, please complete the following fields:
Register