Lagardère Active and Orange launch Musiline
Category
Archives Lagardère Active
Paris, January 18, 2008
Lagardère Active developped MusiLine, the first editorialised and personalised music programming web service, to be listened to on a streaming mode for free
Orange, the exclusive launch partner, offers musiLine for free to all its Broadband Internet customers on its orange.fr portal


MusiLine, personalised music programming
MusiLine is a personalised music programme creation web service that users listen to in streaming and without any software to download.
Exclusively, from today's launch of the service on orange.fr, musiLine gives Orange broadband Internet subscribers (more than 7 million customers on September 30, 2007) the free and unlimited opportunity to listen to personalised music programs amongst the biggest French and international hits, like "No one" by Alicia Keys, "Ça fait mal" by Christophe Maé, "Dès que j'te vois" by Vanessa Paradis or "Same Mistake" by James Blunt.
Designed for every music fan, the service offers access to streamed music according to a series of criteria, including musical genres, users' favourite titles or artists. Eventually, users can create an unlimited number of personal programmes.
They can access the music feed in secured streaming mode and the content can neither be downloaded nor saved, thus protecting the rights owners. The musical catalogue evolves constantly and is updated on a weekly basis, with new titles selected by an editorial committee, made of music programmers from Lagardère Active's own medias.
MusiLine, an interactive, community service for music feed listeners
Thanks to simple and intuitive navigation, musiLine allows users to listen to, create, personalise and share their music programmes. Users parameter their programmes with:
Create a new programme, a free search field where users enter the names of performers, different music genres or whatever they feel like listening to. MusiLine then instantly launches the adapted music programme, streaming the music titles relating to the chosen music scene. At any time while listening, users can react to the current artist or song, skipping the track, barring it or declaring it as a favourite.
MusiGuide, a search aid section which enables extended search by musical genres or by tags.
Expert, a mode for creating your profile, personalising your programmes by adding artists, songs, genres, periods, etc. By being enriched by the listener's behaviour, the music programme adapts in real-time, getting closer to the user's tastes.
An Artist section gives access to information on the world of the performer you are currently playing (latest news, biographies, etc.), as well as other artists listed in the musiLine catalogue.
Orange customers can access the Community to join other musiLine user to discover and share music programmes.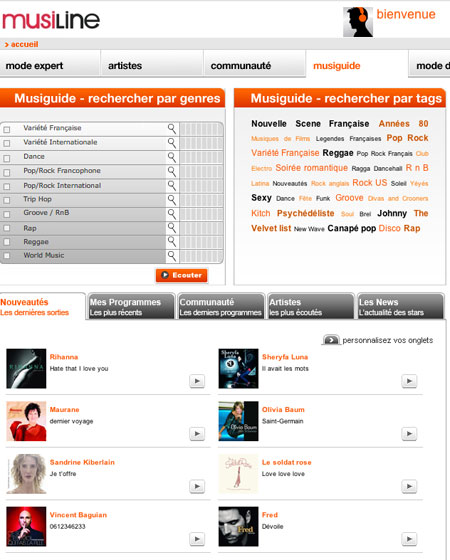 Users can buy their favourite music, completely legally, via a link to Jukebox, the orange.fr music download platform. They will find most of the items listed in the musiLine catalogue.
The musiLine catalogue, enriched and extended every week with the latest music hits, will evolve continuously to offer Internet users the very best in music, with classical and jazz available in the first half of 2008.
Soon, subscribers will also enjoy additionnal services, such as music à la carte menus, and access from their mobiles or their liveradios.
Orange and Lagardère Active in tune with musiline
With musiLine, Orange and Lagardère Active have launched a unique partnership where each has a strong interest:
Lagardère Active is a group with great experience in the world of music through its radio stations and music TV channels and it showed an early interest in extending to the Web. In this context, it provides Orange with know-how on the publication of music feed and complementary information (particularly the current lives of artists and works). MusiLine can also count on more than 20 years of Lagardère Active know-how in the field of music programming (RFM, Europe 2, Europe 2 TV, MCM, MCM Top, MCM Pop, Mezzo).
Similarly, Orange brings convergent solutions that enable users to mutualise their music environments (genres, playlists, libraries, etc.) using different devices (PC, mobile, MP3 players, TV), as well as the leading audience portal in France, with more than 5.2 million visitors a day on orange.fr and voila.fr. Both of these expertises will be rewarded through an advertisement revenue-sharing partnership between Orange and Lagardère Active.
About Orange :
Orange is the key brand of France Telecom, one of the world's leading telecommunications operators. France Telecom serves more than 167 million customers in five continents as of September 30, 2007, of which two thirds are Orange customers. The Group had consolidated sales of 51.7 billion euros in 2006 and 39.4 billion euros for the first nine months of 2007. At September 30, 2007 the group had 106.9 million mobile customers and 11.4 million broadband internet (ADSL) customers.
Launched in June 2005, the NExT program (New Experience in Telecommunications) will enable the Group to pursue its transformation as an integrated operator and make France Telecom the benchmark for new telecommunications services in Europe. In 2006, Orange became the Group's single brand for Internet, television and mobile services in the majority of countries where the company operates, and Orange Business Services the banner for services offered to businesses worldwide. France Telecom is the number three mobile operator and the number one provider of broadband internet services in Europe and one of the world leaders in providing telecommunication services to multinational companies.
France Telecom (NYSE:FTE) is listed on Euronext Paris and on the New York Stock Exchange.
For more information : www.orange.com, www.francetelecom.com, www.orange-business.com
Orange and any other Orange product or service names included in this material are trade marks of Orange Personal Communications Services Limited.
About Lagardère Active:
Lagardère Active is one of Lagardère SCA's four corporate brands, which also include Lagardère Publishing (books), Lagardère Services (press distribution and services) and Lagardère Sports (marketing and management of sports broadcast rights).
Lagardère Active aims to be a leading global producer and aggregator of content for all types of media. It is active in magazine publishing (Elle, Paris Match, Télé 7 jours), radio (Europe 1, Virgin Radio, RFM), special-interest television channels (Gulli, Canal J, Tiji, Filles TV, Virgin 17, MCM, Mezzo), television production and video distribution (GMT, Angel, Maximal), digital media and ad media buying (Lagardère Publicité).
In 2006, Lagardère Active posted revenue of 2.1 billion euros (53% abroad)
The company operates in 41 countries and is an international leader in its field, with nearly 260 magazine titles, 25 radio stations and 10 thematic channels.
Lastly, at end-2007, Lagardère Active ranked second among media companies and 12th among French firms in terms of digital audience, with 8.1 million unique visitors a month in France and almost 20 million unique visitors a month worldwide. Its media buying agency, Lagardère Publicité, markets space seen by more than 15.2 million UV a month, for Internet user coverage of nearly 60%
Orange Press contacts:
Lagardère Active Press contacts:
Email alert
To receive institutional press releases from the Lagardère group, please complete the following fields:
Register