L.U.L.E. and Europe 1 present D.I.S.C.O. – THE MUSICAL EVENT


Category
Archives Lagardère Sports and Entertainment
Paris, February 22, 2013
Directed by Stéphane Jarny
Libretto by Agnès Boury and Stéphane Laporte
Ticket office opens Friday 22 February 2013
WWW.DISCO-LESPECTACLE.FR and usual outlets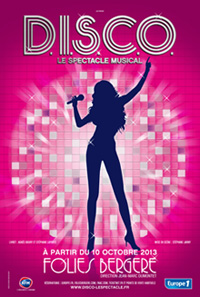 Building on the success of Salut les Copains, which is currently touring France, Lagardère Unlimited Live Entertainment has launched an original new show inspired by disco, the music that defined the 1970s.
Dazzled by a talented troupe of singers, actors and dancers, audiences will follow the story of a young girl who dreams of a world of sequins and disco. Then, one day, totally out of the blue, she becomes the first lottery millionaire. Will her dream finally come true?
This two-hour show is bound to get you tapping your feet to a decade of timeless hits – a fun evening guaranteed!
Opening at the Folies Bergère in Paris on 10 October 2013.
Learn more: www.disco-lespectacle.fr and www.europe1.fr/Spectacles/Disco/
Email alert
To receive institutional press releases from the Lagardère group, please complete the following fields:
Register