June: a channel so good, you'll wish you were a girl


Category
Archives Lagardère Active
Paris, October 6, 2009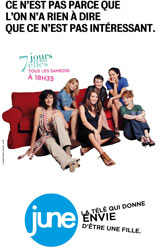 On 13 October, Filles TV is changing its name to June with the launch of a brand campaign, produced by BETC Euro RSCG, aimed at boosting its new positioning with a funny, captivating, offbeat ad clip.
June aims to become the channel of choice for young women in their twenties.
"There are no channels directly targeting this audience yet, even though there is clear demand," stresses Valerie Chebassier, marketing director for Lagardère Active's radio and TV business segment. "These young women face pressures and demands from all sides and have incredibly dynamic lifestyles filled with activities of all types. Watching television is not usually a priority for them, but, like everyone else, they of course watch it to relax, and 60% of them watch for more than two-and-a-half hours per day!"
As Xavier Royaux, chief executive of BETC Euro RSCG, freely admits, "This was a real challenge… The goal was to encourage these young women to give in to their minor weakness for TV and be proud of their attachment to the channel. We hoped that June would revive their desire to watch television."
The campaign hinges on demonstrating the channel's compelling nature by showing that it can even make a boy want to be a girl – a literal interpretation of the channel's new signature catch phrase: "June, la télé qui donne envie d'être une fille" ("June: a channel so good, you'll wish you were a girl").
The clip's director Stephane Cafiero staged a young man's endeavours to prove that he, too, has the right to watch June. The hero (actor Jonathan Cohen) does everything he can to be accepted by a group of young women in a series of funny, offbeat scenes that are quite touching at times.
As of 13 October, the clip will be broadcast not only on television, but in movie theatres and on the Internet as well.
Promoting the channel's flagship shows
June aims to give viewers a real sense of freedom through shared experiences and programming that is thoroughly grounded in the present and where no subject is taboo, designed to appeal to an entire generation – even the boys!
In conjunction with its brand campaign, June has also engaged BETC Euro RSCG to produce a promotional campaign for its new programme schedule. The channel's exclusive newsmagazine programmes 7 Jours avec Elles and New York, New York – Paris, Paris, such new releases as Stylista, and cult series like Samantha Who? and The L Word will be actively promoted via print media and radio.
To top it all off, a several-metre-high display ad will show off June's pop colours in one of Paris' most fashionable Decaux billboard locations in Rue de Passy.
Technical information:
Advertiser: Lagardère Active - June
Advertising managers: Emmanuelle Guilbart
Jérôme Langlet
Valérie Chebassier
Agnès Busidan
Agency: ETC Euro RSCG
Agency managers: Raphaël De-Andreïs
Xavier Royaux
Christophe Defaye
Eugénie Lefebvre
Creative director: Stephane Xiberras
Artistic director: Francis De-Ligt
Copywriter/editor: Nathalie Dupont
TV producer: David Green
Music: Christophe Caurret
Production company: Partizan
Director: Stephen Cafiero
First broadcast: 13 October 2009
Media plan: Cinema, cabsat and Internet
Formats: 45s, 30s & 20s
Email alert
To receive institutional press releases from the Lagardère group, please complete the following fields:
Register