Jo, a responsible series
Paris, April 3, 2013
The first carbon-neutral French coproduction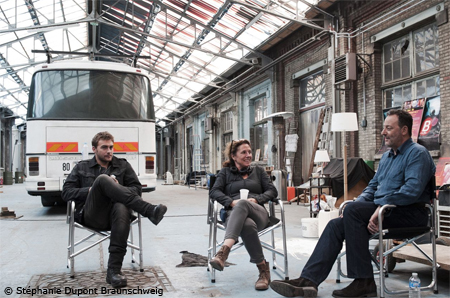 From left to right: actor Tom Austen, Charlotte Sieling, the director of two episodes,
and Jean Reno.
With its production company Atlantique Productions, Lagardère Entertainment, together with Ecoprod,* has pledged to make its new production Jo, with Jean Reno in the leading role, the first international series with a neutral carbon footprint. When Atlantique Productions embarked on this eco-production, it decided to include environmental criteria in its filming choices and and to share best practices with other audiovisual sector participants.
During the 88 days of shooting, which took place in Paris and surrounding areas, numerous initiatives were taken in such varied areas as travel, energy, waste management and even equipment. These included the reuse of cups (marked with the names of those working on the shoot each day), travel between London and Paris on Eurostar, the use of fairground service connections for 70% of the shoot time, paperless documentation, production of aerial views via an ultra-lightweight drone with an electric and thermal motor instead of a helicopter and so on.
The carbon inventory for each of the series' eight episodes was estimated at 73 tons of CO2 equivalent, "a carbon footprint reduced by half for a production of this size." In addition, residual carbon will be offset through participation in a socially responsible environmental project. According to Klaus Zimmermann and Olivier Bibas, the managing directors of Atlantique Productions: "We hope to create a precedent in the way series are produced so that, in the near future, the ecological cost of productions will be reflected in budgets."
*A collective created in 2009 by audiovisual sector participants to encourage the sector to consider the environmental impact of their productions.
Email alert
To receive institutional press releases from the Lagardère group, please complete the following fields:
Register