HFM acquires Infobébés and Infocrèche magazines

Category
Archives Lagardère Active
Paris, July 5, 2006
HFM has bolstered its leading position in the parenting magazine segment
Hachette Filipacchi Medias (HFM) announces the acquisition of the magazines Infobébés and Infocrèche
from the Bartoli family, owners of the press and publishing group Osiris. With this acquisition, HFM has bolstered its leading position in the parenting magazine segment by relying on a high-potential distribution method – the network of day care centres.
Moreover, HFM has acquired a 51% stake in Infobebes.com and the Web agency Thotnet, which provides recognized multimedia expertise in many different sectors, including babies and toddlers, food, entertainment/leisure, beauty/cosmetics, services and health care. HFM is thus rapidly expanding its presence on the Internet, particularly among female targets.
The founder of Infobebes.com, Frédéric Bartoli, has joined HFM's Internet staff as Acting Director, while remaining a shareholder with a 49% interest in Infobebes.com and the Web agency Thotnet, which he will continue to manage and develop.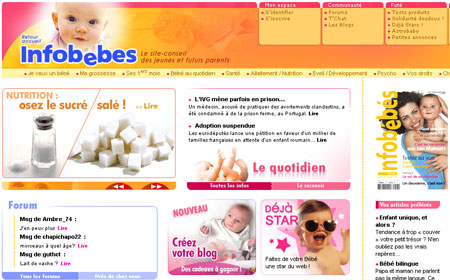 HFM is the leading publisher in the parenting magazine segment with its monthly Parents, which has a paid circulation in France of 309,237 copies (source: OJD 2005) and 3,472,000 readers (source: AEPM 2005).
Created 10 years ago by Georges Bartoli, the magazines Infobébés and Infocrèche rank No. 2, with a 2005 paid circulation in France of 272,010 copies and an audience of 1,696,000 readers, an increase of 9% over 2004. These publications target parents of babies – from birth to three years of age – and feature a warm, intimate tone.
Infobebes.com is the top website dedicated to families, attracting more than 700,000 unique visitors (source: Nielsen May 2006) and nearly 15 million page views per month (source: Cybermétrie). The site was founded by Frédéric Bartoli in 2000 after he graduated from HEC, a leading business school in France.
Infobebes.com Website
http://www.infobebes.com
Email alert
To receive institutional press releases from the Lagardère group, please complete the following fields:
Register