Hachette Livre awarded an excellence award at the 2018 London Book Fair

Category
Lagardère Publishing
Vanves, Wednesday, April 11, 2018
On Tuesday, April 10, 2018, at the London Book Fair Awards, Hachette Livre was awarded the Accessible Books Consortium International Excellence Award: Publisher.
This award recognizes achievements of a publishing company in advancing the accessibility of e-books and other digital materials.
Since 2016, Hachette Livre's digitalization team has been working to implement accessibility upstream in fiction and non-fiction ebooks in France. In 2016, Hachette Livre wrote an EPUB3 production charter which mandated the adoption of accessibility features to make all future trade book titles "born accessible".
As a result, any book thus made available in "born accessible" format prior to its release can be enjoyed by any print disabled person by means of a requisite device (smartphone, computer, digital reader…) implemented with text to speech function or a Braille keyboard.
Hachette Livre pays tribute to Pierre Danet, former Chief Innovation Officer, who supported this vision from the outset and who passed away prematurely last year.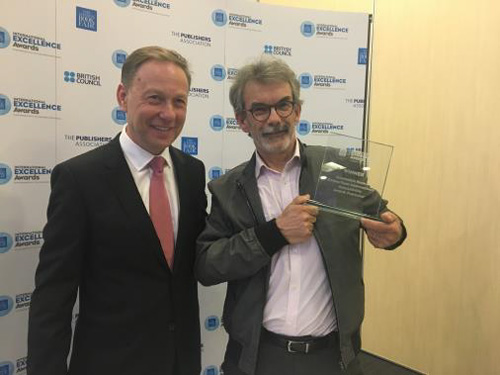 The award was presented to Luc Audrain, Head of Digitalization in the Operations and Services Department in Hachette Livre in France, by Richard Ormes, CEO Daisy Consortium, at a special ceremony on the opening night of The London Book Fair on April, 10 2018.
Press contact
Myriam Simonneaux - Tel : 00 33 1 43 92 34 20
Hachette Livre, a wholly owned subsidiary of Lagardère SCA, is the world's third-largest trade and educational publishing group with sales of € 2,289 million in 2017. It is # 1 in France, # 2 in the UK, # 3 in Spain and # 4 in the USA. It publishes around 17,000 new titles a year under more than one hundred different imprints in a dozen languages, but mainly in French, English and Spanish. It covers all segments of trade publishing: General fiction and non-fiction, mass market pocket books, books for young readers, illustrated books, travel guides, school books, as well as partworks. Its headquarters are in Vanves, France.
Accessible Books Consortium (ABC) : In June 2014, WIPO and a group of key partners launched the Accessible Books Consortium to boost the number of books in accessible formats for people around the globe who are blind, visually impaired, or otherwise print disabled.
Email alert
To receive institutional press releases from the Lagardère group, please complete the following fields:
Register