Gulli is born

Category
Archives Lagardère Active
Paris, September 12, 2005
The new children's channel designed to have broad appeal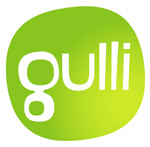 The special-interest channel for kids, produced by LAGARDERE ACTIVE in partnership with the group FRANCE TELEVISIONS, is now called Gulli.
It will be added to the free package of DTT programmes on channel 18 on 18 November 2005. The channel will be beamed to seven million families via all media (DTT, cable, satellite, DSL) as soon as it debuts.
Gulli aims to be the everyday companion of children in the primary through middle school grades. The channel also serves as a link between children and parents, a place where kids and adults can talk to one another.
Gulli with a hard G, as in Growing Up, features three main kinds of adventures.
Growing up while having fun!
Because growing up isn't that easy, Gulli is there to entertain children, help them relax, give them a breather, let them breathe easier and make them smile or burst out laughing. On Gulli, kids can talk about what they like and what they don't like: their goof-ups and their accomplishments, their fears and their jokes, what bugs them and what makes them laugh out loud. Gulli will listen to them and hear what they have to say. It will look at them – and show them on TV!
Growing up while getting involved!
Children live in society and feel that they are citizens of their school and neighbourhood, Europe and the world. They want to be useful and to fight racism and injustice. So Gulli welcomes their generosity and desire to help out in their community. Gulli will be a useful, civic-minded channel, which will get involved in all causes that affect children.
Growing up with adults!
Children know that parents can be helpful when it comes to growing up, but sometimes adults don't really understand their smaller counterparts. Kids need adults to explain the things that puzzle them and have thousands of their own questions to ask them. So Gulli invites adults to come meet with children on their channel and take part in their discussions and games. It designates areas "just for adults", to think about the topics that concern them.
The Dream On agency was chosen to design the channel's logo and graphics.
LAGARDERE ACTIVE PUBLICITE won the exclusive deal to market Gulli.
LAGARDERE ACTIVE holds 66% of Gulli's capital and FRANCE TELEVISIONS the remaining 34%.
Contacts :
Lagardere Active : Laurence Dupré - Tel : 33 1 47 23 16 84
Chaînes jeunesse Lagardère : Caroline Oustlant - Tel : 33 1 56 36 55 77
France Télévisions : Priscille Garcin - Tel : 33 1 56 22 60 61
Email alert
To receive institutional press releases from the Lagardère group, please complete the following fields:
Register