First Maille store in airport at Roissy!
Category
Lagardère Travel Retail
Paris, October 27, 2014
Maille launched its first store in travel retail only one month ago at Paris Charles-de-Gaulle airport, terminal 2E. An exclusive concept was created for this corner. In fact, it was a great opportunity to create Maille universe. The firm was founded 267 years ago and is a French cooking and local products symbol!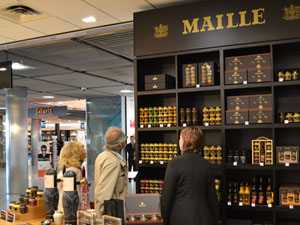 Passengers would be able to find a large selection of products including vinegars, pickles and of course, mustards. You want to make a present? Maille planned everything! In fact, a large offer of gifts boxes which tastes vary from a season to another. Passengers would also be able to customize these gift boxes and make their present unique.
Fresh mustards served directly from pumps, and tasting Chablis or Sauternes, are certainly the most stunning. Another flavor entered Maille store this autumn: truffle mustard.
All these tastes and flavors might attract more than only one passenger!
Email alert
To receive institutional press releases from the Lagardère group, please complete the following fields:
Register