ELLE à Table, now available for the iPad

Category
Archives Lagardère Active
Paris, May 26, 2010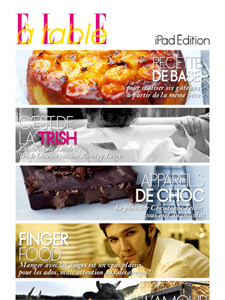 After blazing a trail with the launch of the Paris Match application via the American App Store on April 3, Lagardère Active now announces the release of a second iPad magazine edition, ELLE à Table, which will be available as of May 28, the iPad's launch date in France.
An initial demo issue will be available free of charge as of May 28 until the first paid issue of ELLE à Table comes out on July 3, corresponding to the release of the print version.
Electrolux is the first brand to advertise in ELLE à Table for iPad, in Issues 0 and 1.
The features and services available via the iPad edition of ELLE à Table will be enhanced over time.
According to Sandrine Giacobetti, the magazine's managing editor, "ELLE à Table is above all a practical magazine designed to help readers in the kitchen. That's why adapting it from print to suit the iPad's interactive, multimedia approach is not only consistent – it's also an improvement. The magazine is visually oriented, in keeping with the purpose and nature of the ELLE brand itself, and will draw on the iPad's superior image quality while allowing readers to access recipes in real time with interactive steps and videos."
About ELLE à Table
ELLE à Table
, a spin-off of ELLE magazine, is a Lagardère Active Lifestyle segment publication. The bimonthly magazine is the leader among high-end cooking publications with circulation of 161,755 copies (DFP OJD 2009) and an audience of 996,000 readers (AEPM 2009).
ELLE à Table has an online presence via Elle.fr and also offers books published by Editions Glénat in bookstores. To celebrate the magazine's 10th anniversary in 2009, the ELLE à Table brand launched the first iPhone application devoted to cooking, with more than 5,000 illustrated recipes and a variety of related services. ELLE à Table also has an international presence through a network of four different editions, with circulation of 1,896,834 copies in 2009.
Email alert
To receive institutional press releases from the Lagardère group, please complete the following fields:
Register