Editions JC Lattès releases French version of Moi, Zlatan Ibrahimovic by Zlatan Ibrahimovic and David Lagercrantz

Category
Lagardère Publishing
Paris, January 30, 2013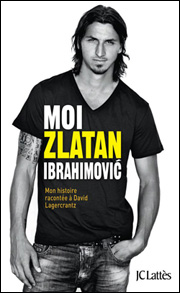 "To play well, you have to be crazy. To be good, you have to feel your anger."
Born in 1981 to a Bosnian father obsessed with his country's past and a Croatian mother who worked day and night for her family, Zlatan was only two years old when his parents divorced. He had a painful childhood in disadvantaged neighbourhoods of Malmö, Sweden, where he always felt left out. At his first club, his ethnicity and temperament already set him apart. They even tried to expel him, but he was soon singled out and his path to glory began: Malmö FF, Ajax Amsterdam, Juventus FC Turin, Inter Milan, Barca, AC Milan and finally PSG in July 2012.
An expert striker and terrific technician with a big mouth, he created controversy everywhere he went. If he is the most expensive player in the history of football, all transfers combined, he is also the only one to have won the championship in which he played every year. His autobiography is perfectly true to his image of being challengingly sincere and a consummate perfectionist – and, as is often the case with champions who seem invulnerable, he has his flaws. Zlatan uncompromisingly reveals both his ordeals and proudest achievements.
Swedish writer David Lagercrantz, who worked with Zlatan, is also a renowned novelist and biographer.
Translated from the English by Olivier Villepreux.
Author(s): Zlatan Ibrahimovic, David Lagercrantz
Title: Moi, Zlatan Ibrahimovic
Publisher: JC Lattès
Collection: essays and non-fiction
Publication date: February 2013
EAN/ISBN code: 9782709642927
Hachette: 4554119
Retail price: €20.00
Format: 140 x 225 mm
447 pages
Email alert
To receive institutional press releases from the Lagardère group, please complete the following fields:
Register