Dan Brown's new book arrives in bookstores

Category
Lagardère Publishing
Paris, January 26, 2006
On 1 February, Les Éditions Jean-Claude Lattès will publish Dan Brown's third novel : Deception Point .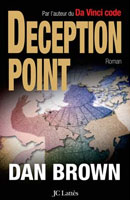 On 1 February
, Les Éditions Jean-Claude Lattès will publish Dan Brown's third novel. Deception Point, which was written between The Da Vinci Code and Angels and Demons, has a beginning that was inspired by a true story. And while they await publication of the sequel to The Da Vinci Code in 2007, readers can experience Robert Langdon's adventures again on the big screen as of 17 May.
The story of Deception Point
When a NASA satellite detects a remarkably rare meteorite buried in the ice at the Arctic Circle, the timing could not be better: the space agency is eager to move beyond a series of failed and extremely expensive operations that could threaten its very existence. Indeed, one of the candidates in the upcoming presidential election is determined to undertake a radical review of the country's space policy. With his political future at stake, the President of the United States sends intelligence analyst Rachel Sexton to the Arctic to verify the authenticity of the find. A team of experts, including charismatic oceanographer Michael Tolland, accompanies her. What Rachel finds is almost unbelievable: evidence of scientific trickery and a bold ruse that threatens to unleash a worldwide storm of controversy. But before Rachel can inform the President, she and Tolland must battle a team of deadly assassins. As they flee across a wild and dangerous landscape, the pair's survival depends on a single hope: that of discovering who is behind this masterful plot.Originally translated from English into French by Daniel Roche)
Reviews
"An excellent thriller. A big yet plausible story that unfolds at breakneck pace, with convincing settings and just the right mix of heroes and villains. A perfectly polished blend of action and conspiracy."
Publisher's Weekly
"Once again, Brown proves that he is among the most intelligent and dynamic of authors in the thriller genre. He blends his own wit and style skillfully with the sort of adventure novel written by Cussler and elements of modern technology as brought to the page by Clancy."
Library Journal
Film adaptation of The Da Vinci Code
Following a top-secret production, the adaptation of bestseller The Da Vinci Code will appear in theaters on 17 May. Some 25 million readers around the world impatiently await the movie, directed by Ron Howard and starring Tom Hanks as Robert Langdon and Audrey Tautou as Sophie Neveu.
Press Contact Jean-Claude Lattès:
Email alert
To receive institutional press releases from the Lagardère group, please complete the following fields:
Register