Committed employees

Category
Corporate & other activities, CSR
Paris, November 21, 2019
The Lagardère Group presented awards to three organizations at the 2019 Commitment Grants ceremony.
The purpose of the Commitment Grants, created in 2014, is to support and encourage the commitment by Lagardère Group employees to social action in one of the fields where the Jean-Luc Lagardère Foundation is active: culture and sport, diversity, education and medical research. One to three grants (each worth €10,000) are awarded each year.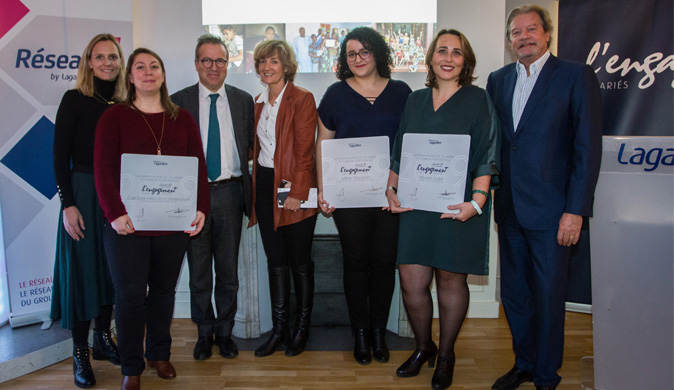 Photo © Emilie Buzyn
From left to right: Quiterie Camus, deputy director of the Jean-Luc Lagardère Foundation; Caroline Minguez-Cunningham; Martin Hirsch; Isabelle Juppé, CSR director of Lagardère SCA; Naïma Timzouert; Mélanie Ogier; Thierry Funck-Brentano


For the first time, the Jean-Luc Lagardère Foundation Commitment Grants were presented at an after-work event, hosted in collaboration with Réseau LL, the Lagardère Group's gender equality network.
The ceremony was held on Thursday 14th November with Martin Hirsch – head of the Assistance Publique – Hôpitaux de Paris and president of the Institut de l'Engagement – on hand as guest of honor, joined by the nominees, winning organizations and Lagardère Group employees.
Thierry Funck-Brentano, co-managing partner of Lagardère SCA and director of human resources, communication and sustainable development for the Lagardère Group, then presented the 2019 Commitment
Grants to three organizations "sponsored" by Group employees:
Gribouilli, sponsored by Mélanie Ogier (Lagardère Travel Retail);
L'École à l'hôpital, sponsored by Caroline Minguez-Cunningham (Lagardère Publishing);
Des jeunes et des lettres, sponsored by Naïma Timzouert (Lagardère Publishing)
The winners were chosen by Group employees during an in-house vote.
Press Contacts
Jean-Luc Lagardère Foundation Contact
Until recently, the Lagardère group was structured into four business divisions: Lagardère Publishing, Lagardère Travel Retail, Lagardère Sports and Entertainment and Lagardère Active.
In 2018, the Group launched its strategic refocusing around two priority divisions: Lagardère Publishing and Lagardère Travel Retail.
Lagardère shares are listed on Euronext Paris.
www.lagardere.com
Email alert
To receive institutional press releases from the Lagardère group, please complete the following fields:
Register